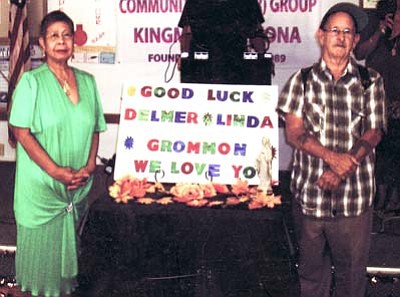 Originally Published: November 18, 2012 6 a.m.
A going away party for Delmer and Linda Grommon was held at the Moose Lodge on Oct. 25, hosted by the Filipino-American Community (Pioneer) Group.
Delmer and Linda moved to Kingman in 1999 and thought they would stay. During the time they have lived in Kingman, 13 years, they also lived in the Philippines half of each year because they cannot tolerate the cold weather.
For 13 years, they have been going back and forth. Delmer, a Native White American, has fallen in love with the Philippines, which later made them decide to move there for good. They sold everything they had here in the U.S.
Prior to moving to Kingman, Delmer Grommon served 22 years in the U.S. Navy and retired in 1976. After retirement, he started his own business in San Diego, and owned the Transmission Shop and High Auto Dismantling.
He had that business until they both decided to settle in a smaller town and chose Kingman.
Friends and relatives said that it was sad to see them go. They were nice and very hospitable people. Linda, who loved to cook, cooks not just for a few people but for a battalion. They will surely be missed a lot.
We wish them good luck in their new place.
Lastly, before they left, they gave 30 pounds of canned goods as a contribution to the coming holiday food drive project of the Fil-Am group.