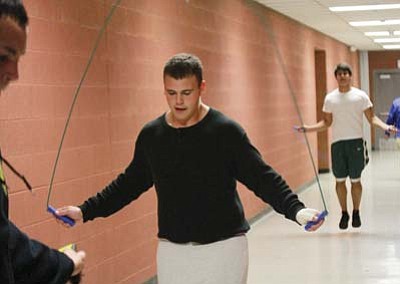 Originally Published: November 18, 2012 6:01 a.m.
Last season's lack of numbers led to open weight classes and forfeits for the Kingman High wrestling team, usually resulting in the Bulldogs being down by at least 12 points to start each dual meet.
In most cases KHS was able to overcome the deficit, but in some instances the deficit proved too much.
However, this year is different as KHS coach Brandon Clor is enjoying a numbers boom that will not only result in a full varsity and junior varsity squad, but will also result in points that last year were forfeits.
"We have a full varsity (squad) right now. We have a 106 (pounder) and a 112 this year. We haven't had a 106 and since Josh Estensen was a freshman and he's a senior now," Clor said. "Last year we always started every dual meet down 12 points and we are not going to do that. Truth is, 106 is the most common place to pick up forfeits, so we will pick up forfeits there by just having a warm body."
The Bulldogs have 38 active wrestlers right now and a total of 43 that have received the clearance cards, meaning they've got all the required paperwork into the school's athletic office.
"Everybody is back and we have a bunch of new guys that are bringing in some fresh blood and we are getting better practices because we are deeper," Clor said. "You are not seeing the same two guys."
Clor attributes the rising numbers to the success the team has shown in the last few years, including getting guys qualified for the state meet. Last year's qualifiers, Matt Waite (145) and Andrew Leyva (170), return in their respective weight classes.
"I know we've had success," Clor said. "We were one of the successful men's sports last year. We had a winning record and we had a lot of success. We had two state qualifiers. I've had a state qualifier almost every year and I've had some state place winners."
Joining Leyva and Waite will be Estensen at 126 pounds while Dalton Delong looks to have the inside track for the 120-pound weight class. Others expected to contribute are Taylor Savage (138), Jared Brown (152), Frank Gandara (182), and Jesus Baraza at heavyweight.
The 195-pound class is still open with Chance Williams looking at holding it for the short term, according to Clor. But Russell Williams, Joe Rubbelke and Cody Ricker are expected to battle for it along with the open 220 class.
In the lower weights, freshman Christian Barrios and sophomore Dominic Lynch will look to contend for the open 106 and 118 classes.
"It's been three or four years now that we've had a 106 and now we have three in the room," Clor said. "It's the problem that we want to have because we have lots of bodies in the room. The younger guys are seeing some really good competition with our older guys,"
The Bulldogs will open the season Nov. 28 in a quadrangular meet in Peoria. KHS will be on the road for the first two weeks of the season before hosting Prescott Valley Bradshaw Mountain and Peoria Sunrise Mountain on Dec. 12.
Last year Clor thought he could get anywhere between four and six wrestlers to state and instead ended up with two. This year he is once again optimistic in his thinking, as he is expecting between six to 10 wrestlers at the Division II state meet, Feb. 8-9 in Prescott.
But while Clor expects success throughout the season and in the state meet, there is one thing that has eluded him since he became KHS's wrestling coach seven years ago - an individual state champion.
"I want a state champion," Clor said. "I think we have the talent to do it. I think there are three or four guys that have the ability, and two guys that are real close that can easily get there this year - Andy and Matt.
"I really want a state champ and I really want one of those guys to come through."