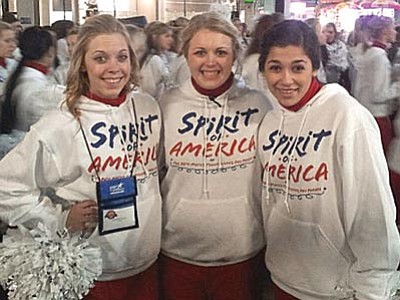 Originally Published: November 22, 2012 6:01 a.m.
Kingman Academy cheerleader Alli Walker grew up watching the Macy's Thanksgiving Day parade in New York City.
She never thought that one day she would be in it.
She attended a summer cheer camp sponsored by the Universal Cheerleaders Association, and the orgnization invited all the captains and co-captains from across the country to attend the parade, which takes place today.
"It's super exciting," said Walker at a pep rally for the football team before Saturday's championship game. "This is my first time to New York, so I'm super excited to go."
Walker won't be alone. Fellow Tiger cheerleaders Jessica Valandingham and Brianna Averett will join her.
"These young ladies are so excited to be in New York City, representing Universal Cheerleaders Association, Kingman Academy High School and their Tigers spirit line squad," said KAHS spirit line coach Jill Proudfoot.
"I couldn't be more proud. It's a busy schedule to keep, but they're doing fantastic. What an incredible opportunity for these young women to be a part of, doing what they truly love - cheerleading."
The once-in-a-lifetime opportunity for the girls also came with a cost. They had to miss Saturday's 4A Charter Athletic Championship game, which the Tigers won 37-8 to capture their second state championship in three years.
"I'm sad because it's my senior year, but on the other hand I'm going to New York and it evens out," said Walker.
The girls flew out of Las Vegas Saturday morning and are expected to return to Kingman Friday. During the time leading up to the parade, the girls worked on their routine, saw some sights and shopped at Macy's, where Walker was hoping for a discount, considering she is performing in the parade they are sponsoring.
"We are going to an NBC performance, and we are going to go to 'Bring it On' the musical and go see the Statute of Liberty," Walker said. "We get to go see the (Radio City Music Hall) Rockettes. Basically, if they don't have us dancing and cheering, they are going to have us go everywhere."
The trip left the KAHS spirit line shorthanded for Saturday's game; it's something the team understood was a great opportunity for the girls, the school and the community.
"I couldn't be more proud of this opportunity that they have to get out of Kingman and see something really big," Proudfoot said.
"The team is so supportive. We can't wait to watch them on Thanksgiving Day and look though all the girls to pick out where they are."
The Macy's Thanksgiving Day parade could be just the beginning for members of the KAHS Spirit Line. In January, the team will head to a contest and are hoping to qualify for a national cheerleading competition in Anaheim, Calif., in March.
The squad was also invited to perform during the NFL's Pro Bowl on Jan. 27 in Honolulu, but decided to turn it down.
"We had to sit down and decide: What do we want more? Do we want to make it to nationals, or go to the Pro Bowl?" Walker said.
A trip to Hawaii is not completely out of the picture. Proudfoot recently received an email informing her of the Aloha International Cheer Championships, which is slated to take place at the end of March after their national competition. It would be expensive, though.
"We would have to raise money through some fundraising, but we are really thinking about going to the competition," Proudfoot said.
In the meantime, Walker, Averett and Valandingham are taking a bite out of the Big Apple by attending Broadway shows and walking through Central Park as they prepare for the eyes of a nation and Kingman to watch them perform during a time-honored Thanksgiving tradition.
"I'm not nervous at all. I'm more excited than anything," Walker said. "It's supposed to rain. Let's hope it doesn't rain on my parade."