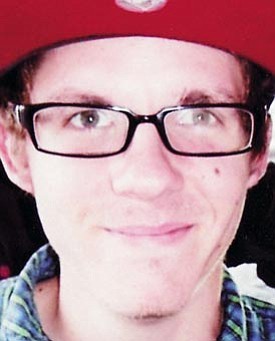 Originally Published: November 22, 2012 6 a.m.
Scott Kegan Yazel, 20, of Kingman passed away Thursday, Nov. 15, 2012. He was born Aug. 10, 1992, in Lake Havasu City to Jeff and Cindie Yazel. He lived his entire life in Kingman.
Scott enjoyed camping in Santa Barbara with his family. He also enjoyed building things with his dad and grandpa, fishing with his grandma and brothers, lifting weights, playing pool with his dad, listening to all types of music, playing with his dog and spending time with family and friends.
Scott is survived by his parents; brothers, Raymond Yazel and Mason Yazel (Jessica Miller); grandmother, Lois Yazel; grandparents, Vern and Grace Fass; girlfriend, Kimi Sterling; aunts, Wendie (Tom) Troupe, Brendie Harrison, Denise (Lee) McElwee and Sharon (Wes) Simmons; uncles, Jim Fass, Jeremy Fass and Jarmin Fass; cousins, Natalie (Tom), Jeffrey (Summer), Lindsey, Kara, Brandi, Sloan and Fiona; his extended family; his Bashas' family; and many friends. He will be deeply missed by all those who knew and loved him.
Visitation will be from 5 to 7 p.m., Monday, Nov. 26, at Sutton Memorial Funeral Home, 1701 Sycamore Ave. A private service will be held at a later date for family.
In lieu of flowers, donations can be made to the "Scott Yazel Memorial Fund" at any Wells Fargo Bank in Kingman.