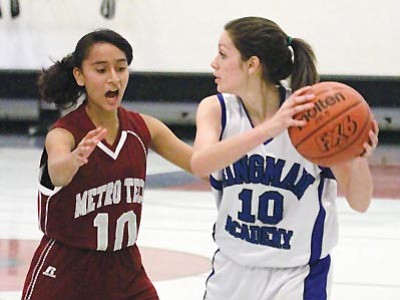 Originally Published: November 25, 2012 6 a.m.
The Kingman Academy girls basketball team looked like the young team they are in the first half against Metro Tech Tuesday.
The Lady Tigers scored just eight points in the half and held an 8-4 lead going into halftime.
The second half was a different story.
KAHS outscored their opponents 13-3 in the third quarter and 10-4 in the fourth quarter en route to a 31-11 win at Glass Chiropractic Court.
"I think they were really, really nervous," said KAHS coach Dave Scroggins. "None of those girls have been in stressful game-like situations. I think the second half they finally calmed down and started doing the stuff that we've been working on in preparation for the game."
Alex Van Schijndel led KAHS with seven points. Kyle Tomlinson, Hanna Mousley and Laura Harris each had four points.
KAHS (1-0) will host Gilbert Early at 5 p.m. Friday and American Leadership Saturday.
They are expecting to get Ashlea Tomlinson and Amanda Murphy back. Both players will provide experience and add depth to a team that saw mostly freshmen and sophomores coming off the bench.
"That will help a lot. They are experienced post players," Scroggins said of Tomlinson and Murphy. "I think the more games they play and the more game-ready they will be and that will help."