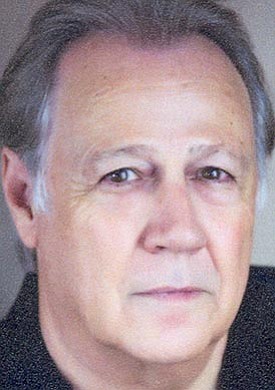 Originally Published: November 25, 2012 6:01 a.m.
Clarence E. "Jeep" Doherty, 68, of Sulphur Springs, Ark., died Tuesday, Nov. 20, 2012, at the Ozark Community Hospital, Gravette, Ark. He was born Sept. 27, 1944, in Chetopa, Kan., the son of Charles E. Doherty and Maxine Skaggs Doherty.
"Jeep" served in the Army National Guard for many years and that is where he met his wife, Vonnie. Jeep loved playing softball, and loved to spend time with his children and grandchildren. He was a 20-year veteran of the Kingman Police Department, retiring in 1993. After moving to Chetopa to be with his family, he became Chief of Police for several years and later moved to Sulphur Springs and began "As You Go Ministries."
He was preceded in death by his father, and his sister, Jeanie Wilson.
He is survived by his mother; his wife, Yvonne "Vonnie" Doherty, of Sulphur Springs; his daughter, DeDe Jabben and her husband Chris of Norwalk, Iowa; son, Tom Doherty and his wife Kari, of Skiatook, Okla.; brother, Roger Doherty of Wellington, Kan.; sisters, Jackie Boling of Gravette and Bridget Spraque of Bella Vista, Ark.; grandchildren, Derek, Desiree, Alex, Jordan, Sara and Jacob; and great-grandchildren, Christian, Camryn and Owen.
A funeral service will be held at 1 p.m. Monday, Nov. 26, at the Bella Vista Funeral Home Chapel. Visitation will be one hour prior to services at the funeral home.
Arrangements are by the Bella Vista Funeral Home and Crematory, 2258 Forest Hills Blvd., Bella Vista, AR 72715.
On-line condolences may be made at www.funeralmation.com.
More like this story