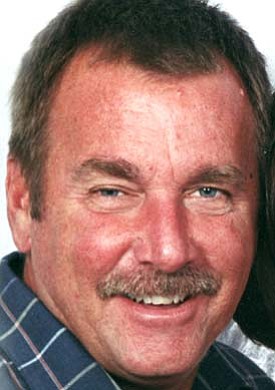 Originally Published: November 28, 2012 6 a.m.
Jeffery "Scott" McCann, age 62, passed away Friday, Nov. 23, 2012, at Banner Baywood in Mesa, Ariz. He was born July 28, 1950, in Monmouth, Ill., to Frank and Mary Louise "M.L." McCann.
Scott graduated in 1968 from Mohave County Union High School. He attended NAU in Flagstaff, Ariz., until joining the U.S. Army in 1970, and served in Vietnam. He married Sharon Edwards Grasser on Aug. 6, 1977.
He worked for Mohave Electric Cooperative, Freiday Construction and retired from the City of Kingman Parks and Recreation Department in 2005.
He was preceded in death by his parents, Frank and M.L. McCann. He is survived by his wife, Sharon; son, Nick (Nickole); grandchildren, Makayla, Chase and Annicka; son, Corey (Robin); and grandchildren, Kelly, Jacob and Derek.
Scott's friends will remember him fondly for the jokes he would tell and the support of the community with his work with the softball association.
I can't think of a better way to be remembered. Make someone smile.
I love you, Scott, and miss you terribly.
There will be no services upon his request.