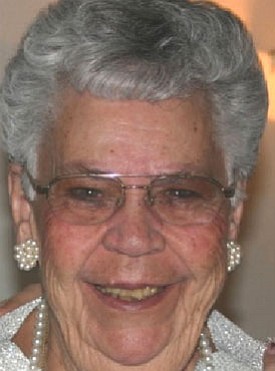 Originally Published: October 3, 2012 6:01 a.m.
Betty Barnes passed away on Wednesday, Sept. 19, 2012, at the age of 88, the same number of keys on a piano.
She was a resident of Kingman for approximately 60 years. She also resided nine years in Meadview, where she loved to fish. Betty was very well known as an entertainer (piano, organ and accordion) and business owner (Pencil Pushers). Those who knew Betty well came to know her as the "Happy Hooker," referring to her passion for crocheting. Her love for crocheting provided many family members and friends with a memento of her love. Betty was a lifetime member of the VFW as well as a successful graduate of TOPS.
She is survived by her six children, James Mascarello (Pat), Linda McManus, Patricia Mascarello (Jerry), Asa Ward (Rod), Dennis Barnes (Kathy) and Tracey Lovely (Gerald). Betty also had eight grandchildren, 13 great-grandchildren and three great-great-grandchildren. She will be deeply missed by family and friends.
Betty's wishes were that her passing not be sad but that her life be celebrated.
A celebration of Betty's life will be held at a later date when it can be attended by all family members and friends who reside out of town.