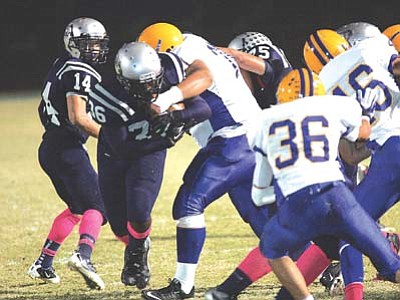 Originally Published: October 7, 2012 6:01 a.m.
When the final seconds ticked off the scoreboard in Surprise Friday night, it read Willow Canyon 21, Kingman 6.
The loss will drop the Bulldogs to 3-4, but as KHS coach Rob York told his players after the game, the Bulldogs have "nothing to be ashamed of."
After all, the Wildcats entered the game ranked 10th in Division II. They outnumbered the Bulldogs on the sidelines 55-24, outsized them and were stronger and faster.
It was a David vs. Goliath being played out on the high school gridiron, with Goliath favored to win by 40 points.
"(Willow Canyon) is bigger, stronger and faster. But effort-wise, our kids played great," York said. "David put up a hell of a fight but we were just short one stone."
The Bulldogs knew going into Friday they would have to contain Willow Canyon's rushing attack that was averaging 188 yards per game. While KHS did give up 264 yards, it's a better than the 418 yards given up by Tempe McClintock in its 47-22 loss to Willow Canyon.
The other keys to the game were limiting turnovers and minimizing penalties. The Bulldogs did a pretty good job, as KHS finished under their 10 penalties a game average with eight and only committed one turnover while forcing two.
"The kids played hard," York said. "A few execution things here and there cost us. But we stuck with them and played with them.
"They have something to be proud of. This is a game that we were supposed to lose by 40 and we were right in there and lost by 15. They have nothing to be a shamed of, they played their butts off."
Joemar Bautista led the Bulldogs running game with 52 yards on 11 carries. Bautistia got the start for leading rusher Matt Waite, who did not make the trip for team issues.
Quarterback Sean Curran completing 4 of 13 passes, including an 80-yard touchdown strike to Joseph Scott in the fourth quarter for the Bulldogs lone score. He ended the night with 99 yards passing while splitting time with Tyler Logas, who completed 5 of 8 passes for 54 yards.
KHS had 261 yards in total offense while running 51 plays for a time of possession of 27:28 compared to the Wildcats 20:32.
"They can leave here with their heads held high," York said.