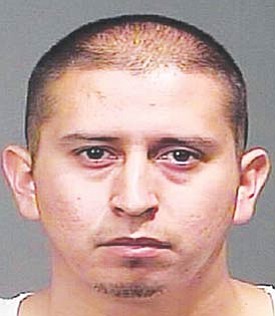 Originally Published: October 11, 2012 6 a.m.
A man was arrested last week on endangerment charges after allegedly trying to cause a car wreck in a fit of rage after seeing another man in a car with his girlfriend.
The girlfriend, her friend and several other passengers in the car drove to the Kingman Police Department following the incident to file a report.
They said that they were driving on Northern Avenue around 5 p.m. Friday when the boyfriend, Efren Sandoval, 24, of Kingman, drove up behind their vehicle at a high rate of speed.
Sandoval then allegedly sped up to get in front of the car as they drove down Castle Rock Road and slammed on his brakes, causing them to nearly run into the back of his car.
Mohave County Sheriff's deputies contacted Sandoval at a residence in the 2300 block of East Ames Avenue.
Sheriff's spokeswoman Trish Carter said Sandoval admitted to becoming enraged when he saw a man in the car with his girlfriend.
Sandoval was booked into the Mohave County Jail on felony charges of endangerment and endangerment per domestic violence.