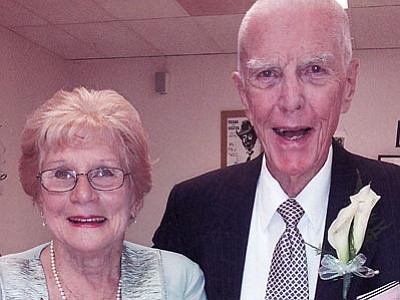 Originally Published: October 14, 2012 6:01 a.m.
Charles "Charley" and Ida "Toni" Anthony Hupp were married Oct. 4, 1952, in their hometown of Western Springs, Ill. They have three children and four grandchildren. The couple celebrated their Diamond Jubilee with 100 guests at the Adult Center on Oct. 6. Son, Schuyler Hupp of Austin, Texas, came to help them celebrate. Also, niece Victoria Anthony Foster arrived from Grand Junction, Colo., for the festivities.
Toni is an active member and officer of the Lewis Kingman Chapter National Society Daughters of the American Revolution. Charley, a Marine 1st Lt. in World War II, is a member of Masonic Lodge 22. The Hupps have been Kingman residents since 2001.