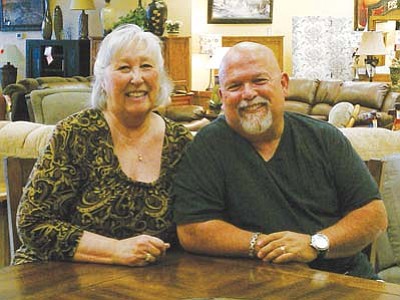 Originally Published: October 15, 2012 6:01 a.m.
Winter is coming, but the Eighth Annual Coats 4 Kids Drive is already here.
The owners of Home Style Furniture, Gary and Mary Christopher, are putting on the drive, which has supplied local kids with 400 to 500 jackets a year for nearly a decade.
"It's been harder to get jackets this year because of the economy," Gary Christopher said. But that won't stop the drive. "I will personally buy more if there's not enough. We're not going to be turning people away."
The drive started Oct. 1 and runs through Thanksgiving.
If you want to help, bring in new jackets with their tags still attached to Home Style Furniture's new location, 3280 Stockton Hill Road. All sizes, from infant to size 18, are needed.
The couple asks for jackets that still have tags because once supplies get low, it gives the Christophers the opportunity to exchange them if needed for sizes that meet the needs of the kids coming in.
If your kid needs a coat, you have to first get a referral from a local nonprofit organization, such as a church, the Cornerstone Mission or Sarah's House. You can get a referral from one of the local schools as well, Gary Christopher said.
Once you get the referral, bring it in to Home Style and you'll get to pick out the coat or coats you need for your kids.
This is an important drive, he said.
"You've got to take care of our future," he said.
Some of the same families come in every year, he said. And they're always grateful.
"We've had mothers in here crying, they were so happy to get new coats for their kids," he said.
If you need more information, call Home Style at (928) 718-5500 and ask to speak to Gary or Mary.