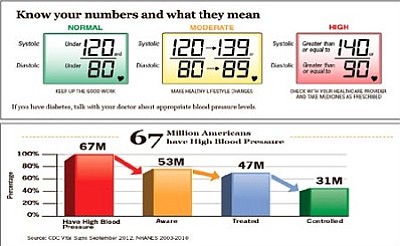 Originally Published: October 15, 2012 6 a.m.
The news is full of stories about overweight Americans, but many people are unaware of another silent epidemic that contributes to the deaths of about 1,000 people a day - high blood pressure.
A recent U.S. Centers for Disease Control study shows one in three adults, about 67 million people, have high blood pressure, but less than half of them, 31 million, have it under control. This is despite the fact that many of these people, about 53 million, know they have high blood pressure and are taking medication.
"High blood pressure is a risk factor that is worth getting under control even if, especially if, you have had heart bypass, valve, or stent surgery," said Jenn Lyons, Kingman Regional Medical Center's Cardiac Rehabilitation clinical coordinator. "Once you've had a heart problem you need to focus on secondary prevention - how to reduce risk factors so you can not only reduce the likelihood of a repeat heart procedure, but it can prevent further damage to artery walls and heart chambers."
High blood pressure is defined as having a systolic pressure of more than 140 or a diastolic pressure of more than 90.
Normal blood pressure is defined as having a systolic pressure less than 120 and diastolic pressure of less than 80. Systolic pressure measures the amount of force the heart uses to pump blood out of the heart. Diastolic measures the pressure in the body's blood vessels when the heart relaxes and blood flows back into its chambers.
"High blood pressure can lead to hardening of the arteries, ruptured blood vessels, contributes to plaque buildup and can lead to heart failure/heart attack," said Rachel Head, the wellness dietitian and outpatient program coordinator at KRMC's Del E. Webb Wellness Center. "It's called the 'silent killer' because people can be asymptomatic despite the damage that is occurring."
According to the CDC, patients suffering from uncontrolled high blood pressure are four times more likely to die from stroke and three times more likely to die from heart disease.
There are a number of factors that can cause high blood pressure,
Family history plays a large part in the disease but so does being overweight, not getting enough exercise, stress, age and other medical conditions, such as chronic kidney disease, Head said.
Diet can also play a role, especially with the amount of hidden sodium in pre-packaged foods that many people eat, she said.
The best way to treat high blood pressure is with your doctor. He may give you medication, but he will also probably ask you to increase your exercise, stop smoking, decrease your weight, decrease the amount of sodium you take in and eat your vegetables, Head said.