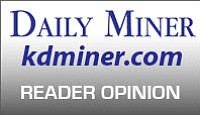 Originally Published: October 15, 2012 6:01 a.m.
The Boys and Girls Club did better than I could have ever expected! I need to thank the people who came out to help and support (by golfing).
Walmart - You are unbelievable with everything you do. Robin Mauser - Thank you for everything the Kingman Daily Miner did to promote our tournament. Thank you to the workers on Saturday - Without all of you, this would not have come off the way it did! The golfers had a really great time! Thank you, Curtis Cutshaw (board member) and Jesse Seller (Walmart) for stepping up and really picking up all the pieces I didn't have, because I don't golf.
Thanks to Sunny Wilcox from Walmart, Dee Dee Hughes from my office, my son Arthur and my granddaughter Alex, who were there all day long. Carol Young (board member) and her granddaughter, Robin Gordon (board member), Betsy Parker (board member) who helped more than you'll ever know.
Walmart donated the lunch and it was wonderful. The raffle/silent auction went well. Thank you to all who donated for that part of our tournament and to our goodie bags! Thank you to our major "High School" sponsor - Kingman Walmart and our "Middle School" sponsor - Monica J. Busch Investments. Thank you to our "Elementary School" sponsors: KRMC/J.M. Eagle /Family Dentistry (Kelly Bradley)/Cascades Tissue Group.
Thank you to all our Tee Box sponsors: Frontier Communications/UniSource Energy/R&J Arizona Designs/ KRMC/Calico's Restaurant/Kingman Mohave Lion's Club/Arizona State Prison Complex/Supervisor Gary Watson/Performance Specialist/Aero-Flite Inc./Mohave State Bank/Desert Road Riders M.C./Mohave Wireless/Transerve Transportation/Noreen Frisch/Just for Kids Dentistry Kingman/Best Western and Kings Inn and Suites/Kingman Walmart.
Thank you all who made this a wonderful event.
Monica J. Busch (board member)
Golf Chair
Boys and Girls Club of Kingman
More like this story