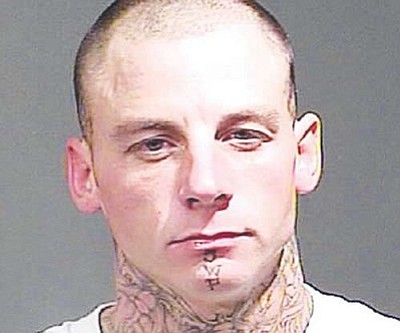 Originally Published: October 16, 2012 6 a.m.
KINGMAN - Police said a Lake Havasu man crashed his car after a reckless drive around Centennial Park, leaving behind guns, drugs and stolen property.
Kingman Police Capt. Rusty Cooper said police were called to the area of Centennial Park around 12:05 a.m. Sunday for a report of reckless driving.
An officer found a car abandoned at the intersection of N. Wells Street and Stephens Avenue.
A group of neighbors pointed the officer in the direction of a man who had fled on foot from the Chevy Impala, Cooper said.
A few minutes later, police received several 911 calls about a man seen running on the rooftop of a home on Morrow Avenue.
Geremy Michael Cross, 26, was ultimately arrested in front of a home in the 3600 block of Wells Street.
Cooper said that inside Cross' car, as well as in a bag believed to have been thrown from the car, police found several handguns, methamphetamine and burglary tools, along with EBT, ID and assorted cards in other people's names.
Cross denied that he had done anything wrong, Cooper said, and told officers that his car had been stolen. He said that he wasn't running from police but that they had caught him exercising.
Cross was booked into the Mohave County Jail on felony charges of possession of burglary tools, possession of dangerous drugs and four felony counts of misconduct involving weapons because he is a prohibited possessor because of previous convictions.