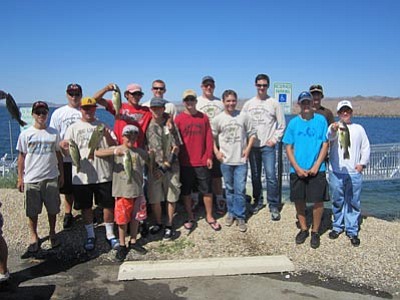 Originally Published: October 17, 2012 8:33 a.m.
The Mohave Junior Bass Club held its first fishing tournament of the fall/winter schedule recently and new member Ty Sherwood led all anglers, catching four bass that weighed 6.65 pounds.
Frankie Mueller came in second with three fish that weighed 5.61 pounds. Johnny Herrero came in third with two fish that weighed 3.45 pounds.
The 15 anglers fished on Lake Havasu near Parker Dam.
The club, which is starting its second year of tournament angling, is open to kids up to 18 years old who want to learn the sport.
Adult volunteers provide boats for the young anglers to fish from, and the anglers fish in different local lakes on their tournament trail.
The club signed up seven new members so far this year and has 17 active anglers, according to head advisor Wally Mueller.
The club's next tournament will be a one-day event at Lake Mohave on Oct. 21.
For more information, call Mueller at (928) 715-6676.