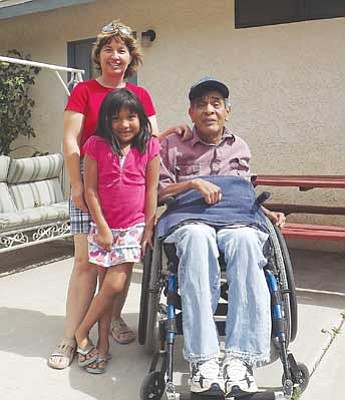 Originally Published: October 19, 2012 6:01 a.m.
KINGMAN - Daniel Phil Zeyouma's eighth birthday would be coming up in February had he not passed away shortly before his birth in 2005.
His parents, Karen and Leonard Zeyouma, had no local place to turn to for help or answers and began attending an Angel Babies prenatal and infant loss support group in Las Vegas. Shortly thereafter, they created one in Kingman. And it's been going strong ever since.
"You don't really know what to do," Karen Zeyouma said. "People don't anticipate having to go through things like this."
Nearly six babies out of every 1,000 born in America die within their first year of life, according to the Central Intelligence Agency.
The support group is by parents and for parents. It's not a professional counseling service, but together parents can help each other get through the holidays, learn to deal with family and friends who don't quite understand the pain and be there for each other.
"Just to know there's somebody out there going through what you're going through is important," Karen Zeyouma said. "It's just an outlet for parents."
When the Zeyoumas lost their baby boy, doctors handed them books to help them through the tough times.
"What do we do with these?" they asked.
It's hard to find someone to relate to when going through tragedies such as these, she said. Family and friends tend to shower parents in sympathy when they lose a child, but that's not what's needed. Empathy is so much more powerful and cathartic, she said.
The Zeyoumas adopted their daughter Carole Ann in 2009. She was actually born three days after Daniel Phil was stillborn.
"You can't replace a child," Karen Zeyouma said. "But she is such a blessing. We would not trade her for anything. We feel that God and Daniel handpicked her."
Sometimes it's good to take a step back and look at the bigger picture, she said.
Angel Babies and two other local organizations, Living the Loss of Your Child and Sister Angels Sewing, have banded together to organize Saturday's Seventh Annual Angel Babies Walk to Remember. The event takes place from 1-4 p.m. at Lewis Kingman Park, 2201 E. Andy Devine Ave.
It features a quarter-mile symbolic walk around the park and down Andy Devine Avenue.
"You're walking for your child that's not here today," she said.Guest speakers, music, a balloon release and a segment devoted to allowing people to share their experiences will round out the day. There will also be a silent auction, and the proceeds will be divided between the three organizing groups.
The event is free.
The Angel Babies support group meets from 6-7:30 p.m. the third Wednesday of every month at St. John's United Methodist Church, 1730 Kino Ave. It is free to attend as well.
The grief of losing a child persists over time, so it's good to know there's help out there, Karen Zeyouma said.
"It never goes away," she said. "It's something you learn to live with."