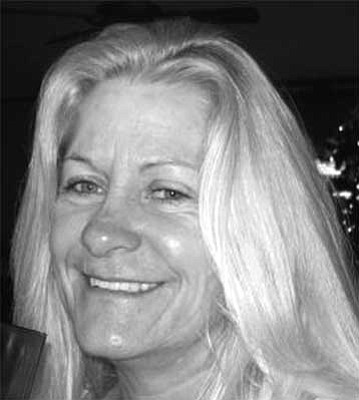 Originally Published: October 19, 2012 6:01 a.m.
Wendy Lynn Robinson, age 49, passed away Friday, Oct. 5, 2012, in a motorcycle accident in Golden Valley along with her love, Steven C. Russo, age 53.
Wendy was born Oct. 22, 1962, in Whittier, Calif. She is survived by her three children, son Marty Tisdale of Kingman, daughter Alexandria "Alex" Tisdale and boyfriend Page Shaw of Golden Valley, and son Benjamin "Benny" Robinson of Golden Valley; brother Dan Miller, wife Tracey and their two children, of Huntington Beach, Calif.; sister Kathy Miller of Philadelphia; fathers of children, Marty Tisdale Sr. of Springerville, Ariz., and Dan Robinson of Golden Valley; sister and best friend Nena Warren of Apple Valley, Calif., and best friend Cheryl Croney of Phoenix; Steve's son, Steven Russo Jr. and girlfriend Lindsey Karbowski, both of Bullhead City; along with many other loved ones.
Wendy lived for her children and stopped at nothing to protect them. Anyone who encountered Wendy loved her and her stubborn ways. She will be greatly missed by everyone. She was very much a free spirit and loved jumping on the back of a Harley and riding wherever the wind blew her. The love Wendy and Steve shared for each other was like no other and evident as they entered into eternity together.
Services will be held at 2 p.m. Saturday, Oct. 20, 2012, at Golden Valley Assembly of God, 3355 Magma Road, Golden Valley. A gathering in remembrance of Steve and Wendy will directly follow at the church. If you are attending and would like to bring a dish to share, it would be greatly appreciated by family.