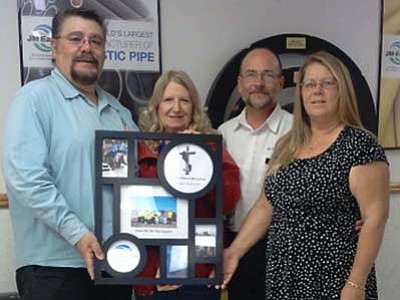 Originally Published: October 21, 2012 6 a.m.
Bruce and Dotty Bollinger of the Bollinger Ranch Ministries were very pleased to present Mike Kenny at JM Eagle with a plaque and sincere thanks.
JM Eagle has been a big supporter of the Bollinger Ranch. Since July 2006, the Bollinger Ranch has given free horseback riding lessons to the special needs kids of the Kingman community.
While developing riding skills, the rider often experiences an increase in balance, flexibility and muscle strength. Riding may also help improve motor skills, flexibility, coordination, socialization skills, attention span, motivation, vocabulary, memory skills, teamwork, personal responsibilities, cooperation and independence.
For more information on the Bollinger Ranch Ministries, please contact Bruce and Dotty Bollinger at (928) 718-0661.