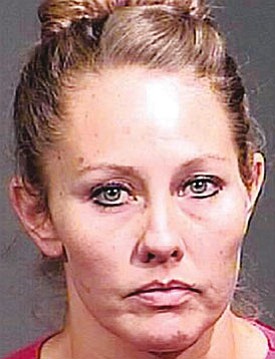 Originally Published: October 22, 2012 6:01 a.m.
A licensed practical nurse at a local adult care center is charged with replacing patients' pain medications so she could use them herself.
Deena Rae Nelson, 35, was arrested at Desert Highlands Care Center Tuesday. She is charged with abuse of a vulnerable adult and fraudulent schemes.
Kingman Police Capt. Rusty Cooper said Nelson was allegedly switching the labels on pill packets of narcotic pain medications with laxatives and blood pressure medication. The patients were then given the wrong medication and Nelson kept the pain pills for herself.
Blood pressure medications, when given to patients suffering from certain conditions, can be deadly.
Cooper said police think only four patients were given the wrong drugs and that none of them were harmed. The switch was noticed by an employee who realized that pills from two different prescription packets were the same.
Cooper said Nelson admitted to stealing the pills.
The investigation remains open and Cooper said additional charges are possible.