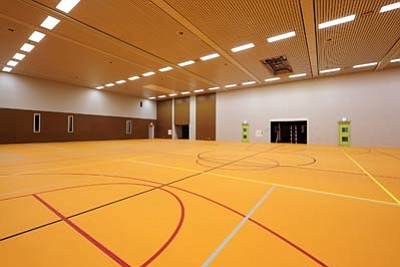 Originally Published: October 24, 2012 6:01 a.m.
The Kingman High volleyball team ended its season against the same foe they faced to start it - Surprise Valley Vista.
This time, the outcome was different.
The Lady Bulldogs lost to the Monsoon 3-2 at home on Aug. 28 to open the season. They avenged that defeat Thursday night in Surprise, with a 3-0 (25-22, 25-22, 25-12) win to end the year at 10-7.
"I am very proud of our 10-7 record this year," said KHS coach Traci Rosenbach. "We have some great accomplishments this season that the girls should be proud of."
Natalie Casson led KHS with 11 kills, six aces, eight blocks and five digs in her final match as a Lady Bulldog. Alison Owen had 12 digs. Taylor Reed added eight kills, Rachel Arave had six kills and nine blocks and Gabby Huffer added 22 assists.
At 10-7, KHS bested last year's record of 8-7 and were closer to the playoffs this year than they were a year ago, finishing No. 17 and missing the playoffs by one spot. However, there are other accomplishments Rosenbach points to, including winning the Lake Havasu Tournament and having a majority of her players on the statistical leaderboards in both the state and in Division I.
Casson ended her career ranked No. 17 in the state in kills with 284. Casson also finished 22nd in Division I in aces (49). Other Division I leaders included: Owen, 14th in digs (266), Huffer, 13th in assists (451); and freshman Desirae Gonzalez was 21st in blocks with 56 before getting injured in the final weeks of the season.
"These are awesome accomplishments for the girls," Rosenbach said "They have really improved since last season and have really worked hard this year."
Rosenbach will lose Casson and Skye Nelson but will retain a core group of juniors: Huffer, Owen, Reed, Heather Weninger, Toria Williams and Arave, along with freshmen Gonzalez and Taylor Olivas.
"Alison Owen and Rachel Arave have really stepped up this year and I can see them fulfilling the role as leaders next year," Rosenbach said. "I forget sometimes that Desirae and Taylor Olivas are freshmen because they caught on so quickly this season.
"They never missed a beat. They have already fulfilled their role on the team and no one looks at them as being younger. We also have a lot of upcoming sophomores and freshmen that have really improved this season. Hopefully, everyone will return next year to our program."
More like this story