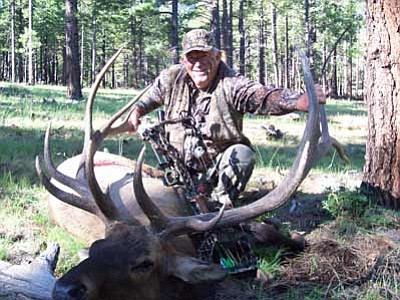 Originally Published: October 24, 2012 6:01 a.m.
The archery season has come to a close and from what I've heard, a lot of Mohave County sportsmen had a tough time filling archery and even early rifle bull tags this year.
But a few did bag bulls, and I'm going to share their stories and photos with you over the next few weeks.
Kingman resident Rod Ward is a lifelong archer and has taken many animals in the past 25 years with his bow, including numerous javelinas, a black bear, a cow elk and, nine years ago, his first bull elk, a velvet-covered non-typical who would be called a true "freak."
But he'd never taken a mature branch-antlered bull elk, which to many is the pinnacle of archery elk hunting.
This year, Rod, his cousin Donnie Ward and his grandson Tanner Ragan drew three out of the 175 tags archery bull tags offered in Unit 15B South.
Rod has hunted this unit many times in the past and knows it well.
On opening morning they were sitting on a hillside calling and listening for elk. The rut was just starting and the bulls were making noise.
They had been calling and glassing for a while when they decided to move. But as they stood up and started putting on their backpacks, Donnie saw some movement below.
They were surprised to see a small group of elk coming up the hill.
In the lead were two cows, followed by a large mature bull. Behind them trailed another elk.
The two cows walked up close to the hunters and at one point a cow looked straight at Rod, who was sitting in the open.
"That cow watched me for almost a minute," Rod said. "But then she turned and started walking away."
Then things got exciting, for behind them came the bull.
"I didn't even bother to look at his antlers," Rod said. "I knew he was a good bull!"
The bull was feeding and was so close that Rod and the others could hear him pulling up grass as he fed slowly.
The bull turned slightly, offering Rod a quartering shot. He let the arrow, tipped with a 100-grain Spitfire, fly at a range of 35 yards.
The arrow hit home and the bull ran just 80 yards before falling over, dead.
Ward said that both Donnie and Tanner had also drawn back on the bull but that a couple of small trees blocked their shots.
With the big bull down, the fun was over and the work began. Rod looked around and noticed that this majestic old monarch had been taken within 80 yards of where he had taken his first bull almost a decade ago.
Ward, like many hunters this year, found that the bull had dropped only 30 yards from an old forest road, but that under the new travel management regulations, this road had been closed.
It meant that the hunters had to make six trips of about three quarters of mile to get the bull back to camp.
Back at camp, the bull drew a lot of attention from fellow hunters, guides, and others.
One guide scored the bull, which had seven points on one side and 10 on the other, at 336 3/8.
Ward is having the folks at TR Taxidermy in Flagstaff do the taxidermy work on his trophy of a lifetime.
Rod noted that while Donnie and Tanner never did get to let an arrow fly at a bull on their hunts, they still had a lot of fun.
"We met a lot of friendly people up there and had a good time," he said. "It was a perfect elk camp."