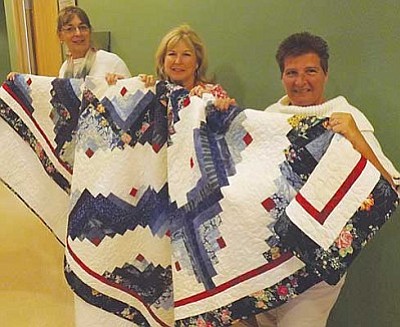 Originally Published: October 26, 2012 6 a.m.
KINGMAN - North Country HealthCare in Kingman is on the verge of celebrating its fifth year in the community and its Fit at Fifty program, which provides free colorectal screenings to people who qualify, is three years old.
The event starts at 5 p.m. Nov. 8 at the clinic, 1510 Stockton Hill Road. People who attend get to meet the providers and tour the facility. Also, the clinic has been selling raffle tickets for a queen-sized quilt dedicated to the Fit at Fifty program, and the plan is to give it away to the winner during the party.
"In 2011, the program started running out of funds," said Terri Holloway, the Fit at Fifty program coordinator for Mohave County.
Holloway, who's an avid quilter, thought a quilt would be a great way to raise money. She designed one and went to her buddies at Quilting Friends, who made the blocks and put it all together, and then she had Kevin Cabbage of Lake Havasu City's Cabbage Patch Quilting quilt the finished product.
The result: a heavy duty, queen-sized quilt made from cotton batting and fabric that's so big it fits on a California King. A daily reminder to people 50 and older to get screened for colorectal cancer is stitched on the back.
"It truly was a community effort," Holloway said.
The raffle tickets cost $1 each. A bundle of six costs $5. To date, 800 tickets have been sold and 350 remain.
Holloway had hoped for more ticket sales at this point, but she's a self-proclaimed optimist.
The program allows people 50 and older with no health insurance to get free colorectal screenings. The FIT (fecal immunochemical test) is a take-home test that looks for the presence of blood in a person's stool, she said.
As long as you're 50, uninsured, do not qualify for the Arizona Health Care Cost Containment System and your gross income is less than 250 percent of the Federal Poverty Level, you qualify for the program.
A single man or woman making $27,925 a year or less is within the income requirements.
Test is
non-invasive
Though the take-home, non-invasive test is the program's trademark, patients can still get colonoscopies if it's determined they're needed, Holloway said.
For people who fought a bout with colorectal cancer in the past; are showing symptoms of the cancer, such as severe abdominal pain or rectal bleeding; have been diagnosed with inflammatory bowel disease; and those whose immediate family have a history of cancer, colonoscopies are recommended, she said.
"There are no early-stage symptoms," Holloway said. "That's why it's important to get checked."
As for the FIT, it's a must to get screened once a year after the first test.
Holloway said 201 people were screened last year, a number that's on par with the Flagstaff clinic, which has had the program several years longer than Kingman.
Most of the people were screened with the FIT, but three of those 201 people were diagnosed with cancer. Thankfully, they were caught relatively early, Holloway said.
Nevertheless, "a diagnosis is devastating," she said.
There are some exceptions to the 50-and-over rule, she said. African Americans should start getting screened once they hit 45, and people who have first-degree relatives - a mother, a sister, a child - who were diagnosed with colorectal cancer before the age of 50 must be screened 10 years before their relative's age at diagnosis.
For instance, someone whose father was diagnosed with colorectal cancer at the age of 40 needs to get screened once he or she turns 30.
Prevention
North Country HealthCare is a family practice that provides primary care to the community, Holloway said. It accepts uninsured patients and charges for care on a sliding scale. It's funded with federal grants, community-based donations and insurance payments, she added.
Colorectal cancer is expected to cause about 51,690 deaths by the end of 2012, according to the American Cancer Society. But if people get screened regularly once they're over the age of 50, roughly 60 percent of colorectal cancer deaths can be prevented.
For more information, call Terri Holloway at (928) 718-4512.
More like this story