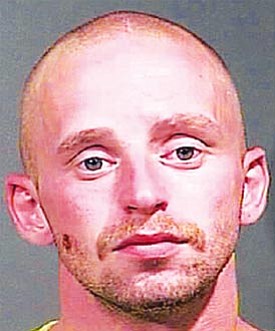 Originally Published: October 31, 2012 6:01 a.m.
A prank that took a violent turn resulted in the arrest of a 22-year-old man over the weekend.
Kingman Police Capt. Rusty Cooper said the incident started when Kingman resident Erich Witten Platt "mooned" several people at South Side Little League Park Saturday afternoon.
A man in the park reportedly took exception to the bared buttocks and confronted Platt. That's when Platt allegedly produced a knife and held it to the man's throat, according to the man and other witnesses.
Platt left the park before police arrived. He was located a short distance away and arrested on felony charges of aggravated assault.
Platt denied pulling a knife on the man. Cooper said it appears that the "mooning" was a random act and was not directed at any one person.