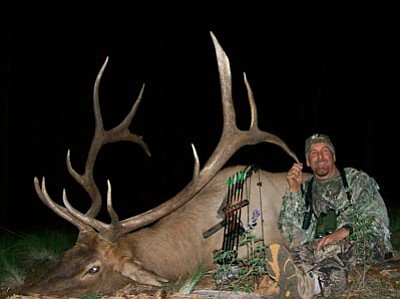 Originally Published: October 31, 2012 6 a.m.
It is no secret that Arizona elk hunts produce some of the largest bull elk in the West.
But it usually takes a lot of time to get a tag, and then it takes a lot of skill and usually some luck to bag a bull of a lifetime.
Kingman resident Rich Clemmer waited a long time for his second bull tag in Arizona.
He drew a tag in 2004 and bagged a 6-by-6 bull that scored just under 300 inches.
While taking any bull with a bow is a considered to be a huge success for a bow hunter, taking one that measures over 350 inches in indeed a challenge.
This year, Clemmer was fortunate to draw one of the 100 archery tags in game management Unit 7W. This unit is located north of I-40. Williams is the closest major community.
Assisting Clemmer on this hunt were his good friends Brian Gunnoe and Shawn Antrim.
Like most archery hunts, this hunt was filled with a lot of highs and lows.
The highs were that the hunters located many good bulls during the first week of the hunt.
The lows were that while Clemmer had shots at several big bulls, he had not connected.
That is often the case on elk hunts. At the moment of truth, hunters develop a case of nerves when they see these majestic animals within archery range.
As I tell the students in hunter education, "If you don't get excited when a big bull comes in screaming, then you ought to take up golf!"
It was the evening of the eighth day of the hunt when it finally came all together.
The hunters had found a large 5-by-5 bull and had decided to try for him.
But cows alerted the bull, and off he went.
Then Gunnoe heard a bull bugle and he knew that it was not the 5-by-5 bull they had been pursuing.
It took Clemmer a while, with a lot of running, to finally get into a position where he had a clear broadside shot. While his friends were cow calling, the bull actually left his cows and came back toward the hunter.
When he released the arrow, it hit the mighty bull right in the heart.
The majestic old monarch went just a few yards and fell over. Clemmer's hunt of a lifetime came to swift end.
The bull was aged at 10 years old and had six well-developed points on each beam.
The beams were measured at 52 and 53 inches in length.
The bull was scored at 353 and is indeed a trophy of a lifetime.
Clemmer is having former Kingman resident Jason Ellico do the taxidermy work on his bull.