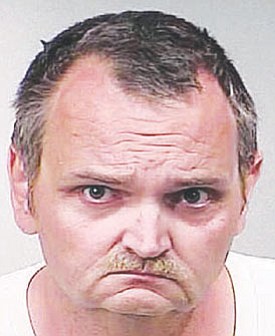 Originally Published: September 3, 2012 6:01 a.m.
A 46-year-old man who pulled a knife on a Mohave County Sheriff's Office deputy has been sentenced to three years on probation.
Edward Eugene Wilson was jailed 72 days from the time of his arrest in late May until his sentencing Aug. 27. The plea agreement stipulates that he serve no additional jail time after pleading guilty to aggravated assault last month in exchange for dismissal of a disorderly conduct charge.
The Sheriff's deputy was called out to Wilson's home on May 23 following an argument between Wilson and his mother. She said her son got upset with her and began breaking items in her home before storming out.
According to the Sheriff's Office, the argument was sparked by her insistence that her unemployed son stop sponging off of her and start looking for work.
The deputy found Wilson walking on Castle Rock Road near Northern Avenue around 8 a.m. Sheriff's spokeswoman Trish Carter said that when the deputy ordered him to stop, Wilson turned and charged at him with a four-inch folding knife in his hand.
The deputy tried to use his Taser, but Carter said the prongs failed to hit Wilson. The deputy then drew his service weapon and ordered Wilson to drop the knife. Carter said Wilson complied after several demands by the deputy.
Neither Wilson nor the deputy were injured.