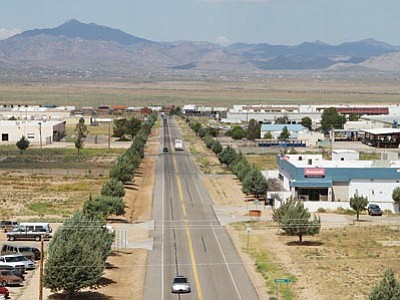 Originally Published: September 10, 2012 6:01 a.m.
People working in Mohave County's manufacturing industry make an average of $51,000 a year, but there's a lack of qualified workers in the area to take advantage of the fat paychecks.
That's one of the reasons the Kingman/Mohave Manufacturing Association was created late last year.
The association, which has grown to include roughly 30 manufacturing companies, initially came up with three strategic goals: retain local manufacturers, attract new ones, and show that Mohave County has something unique to offer.
"Mohave manufacturing industry leaders decided that they needed to find a way to unite, protect their interests and continually sharpen their collective saw," said Travis Lingenfelter, director of the Mohave County Economic Development Department, which is partnered with the association. "They knew that by standing together, the Kingman/Mohave Manufacturing Association could be a far stronger force than any individual company."
John Hansen, the association's chairman of the board and the chief operating officer at Laron, said it's important to bring manufacturing companies together for a number of reasons.
Laron is an industrial support manufacturer.
Workforce development is important for keeping businesses and enticing new ones. But the workforce in Kingman and the county is an issue, Hansen said.
"We just don't have the institutions" to provide the amount of training needed, he said.
The association is working with Mohave Community College to help create a specialized mobile training unit to provide on-site work-related education at manufacturing businesses. It's also working with the Western Arizona Vocational Education Joint Technical Education District to help improve and expand the types of training offered to local students.
"By working with the college and the JTED," Hansen said, "we can improve the quality of training."
Once training starts to pay off by increasing the local workforce's qualifications, business owners see that growth is not only possible but also realistic, which makes them more apt to stay here and move here, Hansen said.
"If you can lower the cost of doing business and improve the workforce through training and apprenticeships, you can change the future," Hansen said.
When it comes to keeping businesses here, sharing is caring.
Compliance cost sharing
Consider the hoops industrial companies jump through to remain compliant with environmental regulations. Companies that can afford it often pay upwards of $70,000 a year to employ environmental compliance specialists, Hansen said.
More often than not, though, companies cannot afford these specialists, and they either don't follow the regulations or they appoint someone lacking the expertise to handle them.
By creating a cooperative, member companies can use specialists hired by one or two companies to handle their compliance needs, Hansen said. They would still need to provide compensation for use of specialists, but it will cost nowhere near as much as putting one on payroll. Improving compliance reduces the cost of doing business and that's key to business retention.
The association serves an important role in the future of the county's economy, Lingenfelter said. Manufacturing continues to be one of the area's primary economic resources, with those working in the business making $51,000 a year on average, he added.
Plenty of local support
Everyone knows that the area is a transportation hub, with the airport, the railroad and the close proximity of Interstate 40. But it has more to offer.
Laron and several other manufacturing companies in the area can support any industry that comes here, Hansen said. When companies have industrial equipment that needs repair, they go to industrial support facilities. With those companies right here, the speed with which a company gets a piece of equipment fixed is faster than if the company ships it to another part of the state or country.
"It's a huge benefit," Hansen said. "You can get things fixed quick," which saves money.
Another bonus is the fact that environmental regulations here are less stringent than elsewhere. For example, sandblasting something - a process common in manufacturing - in Maricopa County earns companies thousands of dollars in fines. That doesn't happen in Mohave County.
"We can blast," Hansen said. "We must be careful with what we blast, though."
The restrictions on industry aren't here right now, he said, and it comes back to environmental compliance to keep it that way. With specialists to guide companies, manufacturers can continue sandblasting and doing other things not allowed in other counties as long as they're careful to not cause environmental problems.
"It allows us to start off on the right foot," Hansen said.
The association requested $5,000 of seed money from the city recently to help it incorporate and hire someone part time to handle administrative duties. Council approved the request, but its decision is contingent upon how the Economic Development and Marketing Commission votes because the money would come from its budget.
The goal is to incorporate and become a 501(c)6 association, which allows it to have money and express its political position on matters pertaining to manufacturing.
"This is very important," Hansen said. "We want to meet concerns head on and do the right thing ourselves, as opposed to being directed by the government."
In the next year, Hansen expects to have more cooperatives set up, the mobile training center up and running and an industrial catalog of the area online and available to businesses.
It takes about three years for organizations to be self-sufficient, Hansen said. That's what the association is shooting for.
"Progress has been reasonable up to this point," Hansen said. "But I'm never satisfied."
More like this story