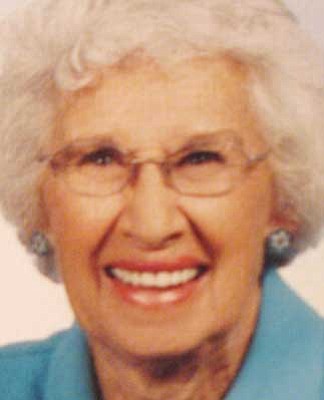 Originally Published: September 14, 2012 6:01 a.m.
Katherine Jean Conrath passed peacefully into the arms of our deal Lord on Monday, Sept. 10, 2012, at the age of 91. She was living quietly at La Bella Assisted Living, enjoying the visits of family and friends, and was being taken care of by the loving staff, including Enid Ballentine, Glenda, Elena and Becky.
Jean was predeceased by her husband, Ken; her son, Bob; and her daughter, Martha. She is survived by her daughter, Maxine; son, Roger; seven grandchildren; and 16 great-grandchildren.
Jean and family arrived in Kingman in 1958 from Penn Run, Pa. Her service to the Kingman community began almost before they were unpacked. One of Jean's biggest commitments was to the fight against cancer. She lost a husband, a son, a sister, a brother and a sister-in-law to this devastating disease. Jean joined the American Cancer Society in 1958. She helped start the Cancer Arts and Crafts Fair in 1975. Fundraising efforts were reorganized under the title of the Kingman Cancer Care Unit, a nonprofit organization that helps ensure that funds generated in Kingman remain in our area and provide assistance to local cancer patients.
Jean was also a member of Kingman Aid to Abused People, served on its board of directors and worked tirelessly to ensure the KAAP home would be a successful refuge for women. She also gave generously of both her time and money to the Kingman Resource Center. This group serves people who have few resources and are in great need of assistance in the Kingman area. Jean enjoyed her involvement in the Morning Glories, a local homemaking group, for over 35 years. Jean was the Women Making History recipient for religion in 1996. This award recognizes women who have given outstanding service to churches in our community, and Jean's efforts and contributions to St. John's Methodist Church certainly deserved acknowledgement. Jean had been a member of the church and United Methodist Women since 1958. Jean's smiling face was seen regularly at the door of St. John's as a greeter. She served on countless committees and provided acres of flowers for the altar through the years. Service was a way of life for Jean. She was always there to ask, "What can I do?" She truly loved people, and uncounted numbers have benefited from her generous and loving heart. We are all richer and blessed for having had Jean Conrath in our lives.
Services for Jean will be held at 1 p.m., Monday, Sept. 17, at Sutton Memorial Funeral Home, 1701 Sycamore Ave. Jean will be laid to rest in Pennsylvania; she will rest beside her husband. The family requests, in lieu of flowers, that remembrances be sent to the Kingman Cancer Care Unit, P.O. Box 3014, Kingman, AZ 86402.