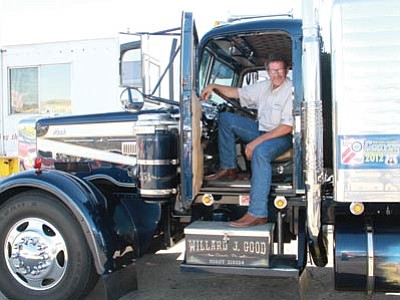 Originally Published: September 16, 2012 1:12 p.m.
The American Truck Historical Society is holding its first Historic Highway Convoy, following Route 66 from Illinois to California.
Is there a more logical stop than Kingman?
The vintage trucks and their sponsors stopped at various TA TravelCenters of America and Petro Stopping Centers along the way to rest and put on a display for visitors at each stop.
On Thursday, the convoy came to the Kingman TA. People came from miles around to see the historic vehicles or display vintage trucks of their own.
Willard J. Good, of Denver, Pa., was driving his 1954 LT Mack truck. He has been into historical trucks for almost 20 years and got the LT Mack about 10 years ago. "It's something different. I get a lot of comments and meet a lot of interesting people. I like talking to the older fellows who drove these things when they were new."
The convoy was scheduled to arrive at its final destination in San Bernardino, Calif., on Saturday.
For more information on the ATHS, visit their website at www.aths.org.
More like this story