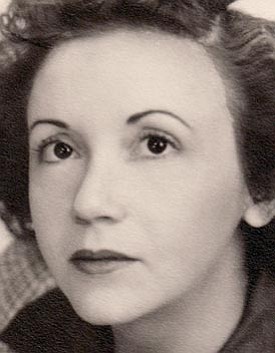 Originally Published: September 16, 2012 6 a.m.
Kathryn Eileen Hartup, 92, of Kingman passed away Tuesday, Sept. 11, 2012, in Kingman. She was born May 3, 1920, in Throckmorton, Texas, to F.V and Mary A. Barber. She moved to Kingman 73 years ago from Texas.
Kathryn graduated from Holbrook High School and worked for Citizens Utilities as a telephone operator during WWII.
She is survived by her daughter, LaVern Allen (Ron) and son, Joseph Hartup (Trudy). She is also survived by her grandchildren, Lisa, Jamie, Scott, Deana, Cory, Kara and Darcy; her great-grandchildren, Tamara (who is expecting a boy soon), Tara (who is expecting a girl soon), Joshua, Nathaniel, Valeska, Dustin, Emma Leah, Jaylen, Genesis, Alicia, James, Chance, Sammi and Madde; and her great-great-grandchildren, Carissa and Riah, and the two expected soon. She was preceded in death by her husband, Virgil Hartup; son, James (Guy) Hartup; grandson, Reggie Allen; great-grandson, Zach; parents, F.V. and Mary Barber; brothers, Ikie and James Barber; and sisters, Dora Hughes, Billie Ricca and Dixie Pettigrew.
The service will be a 2 p.m., Saturday, Sept. 22, at the Kingdom Hall of Jehovah's Witnesses. In lieu of flowers, donations can be sent to Kingdom Hall of Jehovah's Witnesses, 4335 N. Stardust Road, Kingman, AZ 86409.