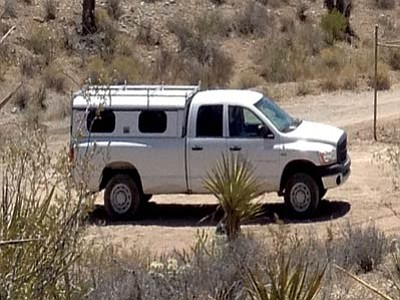 Originally Published: September 18, 2012 6:01 a.m.
A reward of up to $750 is being offered for information about the theft of a Mohave Engineering truck containing more than $6,000 worth of survey equipment.
The Mohave County Sheriff's Office said the white 2006 Dodge Ram pick-up truck was stolen from the Mohave Engineering business at 2153 East Gordon Drive Sunday night.
The company's logo - "Mohave Engineering Associates" - is visible on the driver and passenger doors in black letters.
Sheriff's spokeswoman Trish Carter said the truck is also equipped with a white camper shell with oval-shaped windows and a utility rack on top.
The truck has an Arizona license plate reading 231TKE.
Anyone with any information is asked to contact Sheriff's Office at (928) 753-0753 or Silent Witness at (928) 753-1234. Silent Witness is offering a reward up to $750 for information leading to the arrest and conviction of the person(s) responsible for the theft.