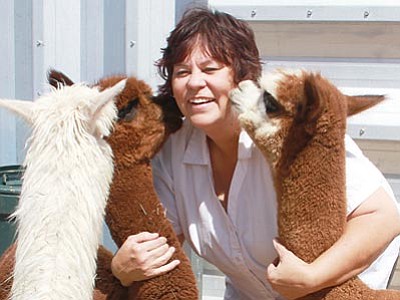 Originally Published: September 20, 2012 6:01 a.m.
KINGMAN - Visitors who attend the Alpacas of the Southwest open house later this month will get to meet at least one newborn, with two more mamas ready to give birth at any moment.
Ron and Anna Nyberg have opened their homestead to the public each September for the last six years as part of National Alpaca Farm Days, slated this year from 10 a.m. to 4 p.m. Sept. 28-30.
One baby alpaca was so eager to make headlines that she arrived just minutes before the Miner photographer visited the ranch Tuesday.
The yet-to-be-named newborn, born to Starr (as in Ringo Starr) will most likely take its name from a Beatles song in the tradition of many of the Nybergs' llama-looking creatures.
Ron Nyberg isn't sure if the other two expecting moms will deliver by next weekend.
"It's between them and Mother Nature if we'll have them in time," he said. In addition to meeting the alpaca crew at the Alpaca Days, there will arts and crafts for the kids, fiber spinning demonstrations and products available for purchase made using alpaca yarn.
There will also be a hot dog vendor and the High Desert Astronomy Club will have telescopes on hand for sky viewing.
The event is free.
The Nyberg's alpacas are a mix of Huacaya (wa-Ki-ah), which are the most common type and have a fluffy, fine coat, and Suris, which are the rarer of the two types and have a coat that resembles dreadlocks.
The animals have one sound - a hum - which they make when they are stressed.
The Nybergs began looking into self-employment opportunities around the time they bought their first alpaca in 2003. By 2005, they had moved to their ranch just outside of Kingman and had a total of nine alpacas.
They now have a herd of about 30. Some alpacas are sold to other ranches, but there's about a half dozen the couple refuses to part with, Ron said.
"We only sell to people who will do right by them. There's a few we're strongly attached to and certain ones we won't sell no matter what," he said.
Around 700 people visited the ranch during last year's open house. Alpacas of the Southwest is located 13 miles east of Kingman.
Take I-40 to Blake Ranch Road, make a right, then take the first left at Old Highway 93. Go another 1.3 miles to McCarrell Road and the alpaca entrance is on the left. For more information, call (928) 225-1450.