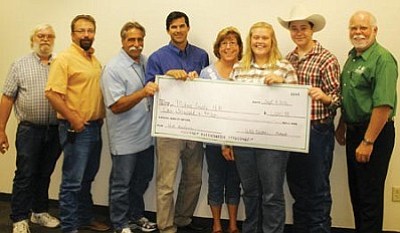 Originally Published: September 20, 2012 6 a.m.
American Legion Post 14: Any Legion family member who wants to ride on the Post 14 float in the Andy Devine parade on Sept. 29 should be at the Post by 8:30 a.m. The parade starts at 10 a.m. Membership numbers are looking good, but we do need to keep the 2013 renewals coming in. Don't forget, you can renew online at www.legion.org. The Oct./Nov./Dec. newsletter will have a lot of information on upcoming events, so make sure you check it out. Post 14 is on the corner of Third and Oak in downtown Kingman. Call us at 753-3555.
Belles of St. Mary's: Ladies and gents, we have come through the summer hopefully smarter and more resolved and resolute in our holy life. We are going to learn, OK? It is not uncommon for modern Catholics to judge Sunday Mass, the Church, and Catholicism by what they get out of it. This attitude is the fruit of individualism (not a fruit of the Holy Spirit); more later. To the business at hand - our meeting this past Tuesday was bursting at the seams (table seating capacity was at maximum overflow). It was wonderful! Social director Chris C. (you know, like on a cruise ship you have a "director of fun") quickly took us all on a nature walk ice-breaker - Jessica R. was named as a cypress tree, Jeanne H. was identified as a lime tree and Rosalie H. was born as a rowan tree. We were all given our tree horoscopes to which most of us agreed, but some took umbrage at the proposal definitions. Yours truly was aghast at the notion of being labeled "likes to lead, but not to obey." Harumph! We all had a good laugh. The hostess schedule was set, proposed dates of fundraisers were agreed upon, then off to the goody table we went! Back to a somber note - today we honor the Martyrs of Korea. Through the 1800s, Koreans were persecuted, and in 1984 Pope John Paul canonized 103 as saints. Over 8,000 were killed through that span. See you at Mass, yes? P.S. - 10 weeks 'til Advent!
Boys and Girls Club of Kingman: There will be a benefit golf tournament at Cerbat Cliffs Golf Course, 1001 Gates Ave., on Oct. 6. Scramble-shotgun starts at 8 a.m. Lunch will follow, donated by the Kingman Walmart. Cost: $70 per player. Sign up at the pro shop. From 8 a.m. to 1 p.m. Oct. 12 and 8 a.m. to noon Oct. 13 there will be a gigantic sale of new and not-so-new items at the Boys and Girls Club, 301 N. First St. (across from Locomotive Park). There will be crafts, toys, clothes, books and much more. All funds will help the youth of the Kingman community. From 6 to 8 p.m. Oct. 31 there will be free Halloween fun at the Boys and Girls Club. There will be games, booths, trick/truck treating at motorcycles and cars and fun for all! Should you have any questions or need additional information about any of these upcoming events, please call (928) 718-0033.
Friday Afternoon Bridge Club: The winners on Sept. 14 were: first place, Bryan Carlson and John Goryl; second place, J.T. Perkins and Wolfgang Vorbau; third place, Trey Gordon and Jim Blaschak; and fourth place, Kay Klaus and Jerry Lipson.
Friends of the Golden Valley Library: The Friends will hold a book sale from 8 a.m. to noon Oct. 6. Books will sell for $2 a bag (our bag). We have many books on just about every subject - law, music, mysteries, romances, children's books, science and many more. We also have VHS tapes, magazine holders and more. Look for us in front of the library at 3417 N. Verde Road on your way to Golden Valley Days. We also have a special on GV Friends of the Library membership. Buy a regular one-year membership for $5 and receive a 15-month membership. The next scheduled meeting is at 1 p.m. Nov. 3. Come and meet the current Friends of the Library group. Elections for 2013 officers will be held then. Library hours are 9 a.m. to 3 p.m. Tuesday, noon to 6 p.m. Thursday, and 10 a.m. to 1 p.m. Saturday. The phone number is (928) 565-2989.
Kingman Kut-Ups Square Dance Club: The club's next event is
Continued from Page 4
the Rodeo Days Dance from 7 to 9:30 p.m. Saturday in the Mohave County Senior Center, 1776 Airway Ave. The caller will be Ned Newberg. For additional information, please call Jean (928) 565-3058.
Kingman Pinochle Club: The winners on Sept. 15 were: first, Bob Bennett; second, Keith Walker; and third, Dan Naasz. For more information, call Pat at (928) 718-1253.
Kingman Social Club: The Kingman Social Club is pleased to announce their monthly meetings will be held at Dora's Beale Street Deli. Luncheon meetings include a guest speaker or an activity. Get-togethers include monthly dine-outs, holiday parties and fundraisers for the Christmas Charity Fund. At 11:30 a.m. Oct. 16 we will hold our next "No Host" luncheon. Our speaker will be Capt. Rusty Cooper from the Kingman Police Department. The next "Dine Out" will be at 5 p.m. Sept. 29 at Yesterdays Restaurant in Chloride. Reservations will be taken by Vi Butler; contact Vi at (928) 377-3384. For further information about Kingman Social Club, contact John Boersma at (928) 692-7553.
Mothers Against Drunk Drivers (MADD): The next meeting of the 2012 Victim Impact Panel will be at 6:30 p.m. Oct. 2 at the Mohave County Sheriff's Office Training Room, 600 W. Beale St. To register, call (602) 240-6500, option 2, then option 3 for Mohave County. Follow the detailed instructions. Class fee is $40, money order only, made payable to MADD. Classes are held on the first Tuesday of every other month. Our wonderful volunteers are asked to be there at 6 p.m. to set up. Hope you can all make it. Please advise if you are busy. Anyone interested in being a volunteer with this organization can contact Jess at (602) 240-6506.
Rescued Unwanted Furry Friends Foundation: The fun-raiser, Last Chance Barbecue and Auction (including music and dancing), begins at 6 p.m. Oct. 19 at Shugrue's Bridgewater Room, 1425 McCulloch Blvd., Lake Havasu City. The cost is $30 per person or $280 for a table of 10 guests. Mohave County is requiring RUFFF to install three-inch thick gravel/sand in all dog runs, costing approximately $15,000. Otherwise, the government will not renew RUFFF's permit and the animals will lose their home and most likely their lives. Call (928) 854-9118 for tickets, or donations can be made to RUFFF, P.O. Box 2477, Bullhead City, AZ 86430.
Sounds of Kingman: Because the Sounds of Kingman free event scheduled for Sept. 7 was rained out, it has been re-scheduled for 3 to 4:30 p.m. Oct. 7. Join us in Metcalfe Park to listen to some great band music, ranging from the ever-popular marches to show tunes, traditional songs and a variety of other selections. This is the second appearance for the Kingman Concert Band at a Sounds of Kingman summer concert. Band director Art Swanson and assistant director Julie Gragg will share the conducting duties for a grand good time for all. Bring your lawn chairs, blankets, coolers and picnic dinners. Sit back and enjoy some of the best music in Kingman that your money just cannot buy. See you there and bring a friend!
Vietnam Veterans of America, Mohave County Chapter 975: The VVA, Mohave County Chapter 975, will be having their next meeting at 6 p.m. Sept. 27 at the Sunridge Village, 839 Landon Drive, Bullhead City. For information, call (928) 681-4709.
Wednesday Party Bridge: The winners on Sept. 12 were: first place, Rita Selk; second place, Mary Cashdollar; and third place, Nelson Gaska.