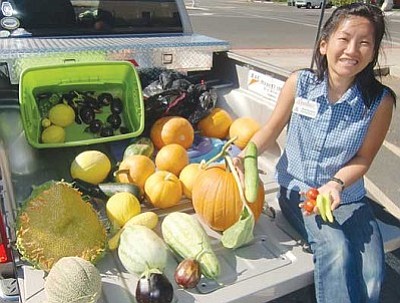 Originally Published: September 21, 2012 6 a.m.
KINGMAN - When you combine a pinch of math, a smidgen of language arts and a heavy dose of science with soil, seeds and creativity, what sprouts up is the Mohave County School Gardening Program.
Brought to the area as part of a cooperative between the University of Arizona and the Mohave County Cooperative Extension Office, and funded by an annual $20,000 small schools grant through the Mohave County School Superintendent's Office, the program has been around for about a decade. Its goal is simple: bring agriculture into the classroom to supplement various types of traditional learning, especially science.
"We need scientists in our life," said Nina Brackett, the instruction specialist for the program. One way to promote that is to introduce hands-on scientific learning into the classroom, especially at the primary level, using the tools of gardening to make it fun and foster interest, she said.
But gardening transcends science.
Gardening as a science has established three seasons in Arizona when things grow best: summer, fall and what is known as the third season, which occurs in early fall and early spring. But when gardening is not in season, there are still lessons to learn, she said.
Instead of teaching the ABCs in the traditional sense, you can teach the ABCs of fruits, vegetables and flowers, she said.
"F is for fennel," Brackett said. Then you show how fennel is grown, how it's used for cooking and explain that it can be made into licorice-like candy. "Every kid loves licorice."
Then there's math.
"You can't have gardening without math," she said.
You tell students they have $10 to spend on their garden and ask them what they are going to buy, she said. This helps them learn how to budget. Are you going to spend $2.99 on flowers that have already started growing, or are you going to spend 99 cents on a packet of seeds?
"I'm trying to give the students a little bit of reality," she said.
During the growing seasons, math is a mainstay in the gardening program. Students track their seeds and log relevant information such as length of time to germination. This can all be graphed and illustrated with numbers, she said.
Brackett and her team of volunteer master gardeners are available for any teacher who wants to utilize their services. There are some requirements, though. She needs at least 45 minutes per class to work with students. Coming in for 15 minutes isn't worth the time for the students, teachers and the program, she said. Also, each school tops out at one visit per month because there are 60 public schools in the county sharing the program.
Teachers should ask early and plan ahead if they're interested in the program.
"It'll make my life much easier," Brackett said.
The interest in the program at La Senita Elementary is so strong that teachers and students have established a gardening space at the school.
"I can go in at any time and teach," Bracket said. "But at La Senita we can grow, and it's not just me talking."
La Senita is one of the only schools with an after-school gardening program. Stephanie Rivedal, a fifth-grade teacher at the school, said that in the last three years the school's plot has gone from a dirt square to a full-fledged garden. Over the last two years, students have grown and harvested pumpkins, beans, and all kinds of squash, zucchini, cabbage and broccoli.
"I think it's a great opportunity for kids to learn about gardening," she said. "I would absolutely recommend the program to other teachers."
Last year, students grew broccoli in buckets. Once it was harvested, kids were battling for the last piece because it tasted so good, she said.
"The ultimate goal is to show the life cycle of plants through experimentation, and then have students reap the rewards of their work by tasting the vegetables they grew," she said.
The program is also offering an upcoming workshop dedicated to teaching teachers how to implement basic gardening lessons to teach their students. It's a three-day workshop spread over the course of about two months.
Oct. 6 is the first day, and the lesson will focus on budgeting, site selection, applying the basics and utilizing agriculture in the classroom lesson plans.
Nov. 3 is the second day, and those in attendance will learn about the three seasons and the vegetables best grown during those times. The basics of soil will also dominate the day.
The workshop wraps up Dec. 1 with water requirements, drip irrigation, disease and pests.
"It's all a learning experience," she said. "And it helps teachers learn what farmers have to deal with," which they can then share with their students.
The full workshop costs $20 a person. It takes place from 1 to 4:30 p.m. on the days listed above at the University of Arizona Cooperative Extension Agricultural Center, 101 E. Beale St. The deadline to sign up is Monday. Teachers can also show up on the day of the workshop with payment in hand, but there's no guarantee they'll get in. Space is limited.
To schedule a visit to your classroom, sign up for the workshop or learn more about the program, call Brackett at (928) 753-3788.
Mike File, the county superintendent of schools, grew up on a farm in Pennsylvania and supports the program by writing the grant every year because he believes it's important.
He said the program helps kids find their niche, which boosts their performance in school overall.
He's sat in on several lessons and even uses some of her tactics at home with his children, including growing vegetables straight out of soil bags.
It's an awesome program, and the food produced tastes great.
"I've never been a fan of broccoli," he said, "until I ate it straight out of the garden."