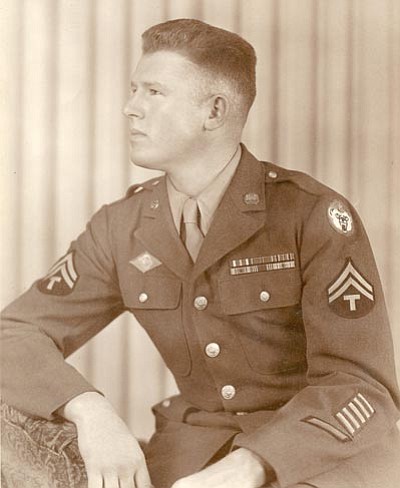 Originally Published: September 26, 2012 6:01 a.m.
Walter Worth Duncan Sr., 89, of Blythe, Calif., passed away peacefully on Sunday, Sept. 2, 2012 in Mesa, Ariz. He was born on Dec. 5, 1922, in Knickerbocker, Texas, Tom Green County.
At the age of two, his family moved to Duncan, Ariz., where he grew up on a working ranch raising horses, burros, mules and goats. Worth was raised to be a hard-working cowboy, learning to be responsible early on as required by rural ranch life. Worth enjoyed ranch life growing up in Duncan.
He attended college in Thatcher, Ariz., until the start of World War II. Worth enlisted in the Army and served from 1942 to 1946. Worth participated in the Asiatic Pacific Campaign, serving 30 months of active combat duty on Attu, an island off the Aleutian chain of Alaska. Worth earned two Bronze Stars for his service.
After the war, in 1947, he was declared the Champion National Guard Recruiter in the state of Arizona and was personally thanked for his service by President Harry Truman in the Oval Office. General Dwight D. Eisenhower also invited him to attend a Thanksgiving banquet and Notre Dame football game. Later, Worth established an Army reserve unit in Blythe, where he recruited 24 men in 30 days. Worth retired from the Army at the rank of captain after serving 22 years in the Reserves.
At the completion of WWII, Worth returned to Kingman, working on his parents' ranch in Wikieup, Ariz., and continued his studies at Northern Arizona University-Flagstaff, where he received his teaching credential degree. During this time he married Nancy Elane Cornwall on Sept. 19, 1948. After teaching for one year in a one-room schoolhouse in Wikieup, Worth accepted a teaching position in Blythe, working for Mr. Appleby. Walter Scott, of Blythe, hired Worth for the job and became a life-long friend. Worth accepted the offer and moved his wife, Nancy, and infant son, David, to Blythe in August of 1951.
In 1956, Worth changed positions and served as the truant officer (hooky cop) for many years in Blythe, where he was known to always get his man (kid).
From 1967 to 1975, Worth and his family lived in El Centro, Calif., where Worth was hired by the State Department as the first regional director of the migrant education program, representing the four Southern California counties. Worth was well-suited for this job due to his vast knowledge of the plight and needs of migrant families. Worth and family moved back to Blythe in 1975, where he continued as an employee of the Palo Verde School District until his retirement in 1982. In later years, Worth enjoyed traveling with his wife, Nancy, to music festivals to play and listen to music. Worth was an accomplished accordion and bass guitar player.
Worth loved Blythe and all the people he knew over the years. He will truly be missed by all who knew him.
Worth is survived by his wife of 64 years, Nancy Elane; his daughter, Jolane Duncan of Blythe; sons, David of Boulder City, Nev., Walter W. Duncan Jr. of Blythe and Lee Duncan of Mesa, Ariz.; 12 grandchildren; and two great-grandchildren. He was preceded in death by his parents, Joe Carl Duncan and Walter Bob Duncan (Robertson); his sisters, Celia Duncan and Joanne Stockbridge; and brother, Jimmy Carl Duncan of Kingman.
A memorial services was held Sept. 15 in Blythe.
More like this story