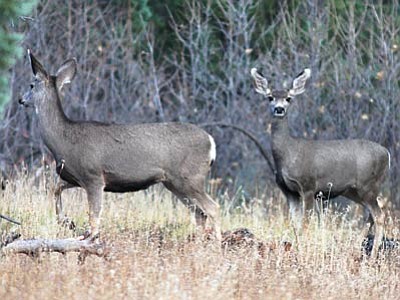 Originally Published: September 26, 2012 6:01 a.m.
Two recent incidents in the Hualapai Mountains have led Game and Fish officials to believe they are dealing with a serial poacher.
A reward of $3,750 is being offered for information in the case following the discovery of a mule deer gut pile to the east of the first cattle guard heading south on Hualapai Mountain Road Sept. 19.
It was the same location where several days earlier, on Sept. 10, a witness reported seeing a group of four men shooting at a deer.
The suspects, believed to be local and in their 20s, left in a maroon-colored, Chevy single-cab pickup truck, said Zen Mocarski, spokesman for the Game and Fish Region 3 Office in Kingman.
"If, as suspected, this involves the same poachers, it was pretty bold," Mocarski said. "Both deer were taken from the same location. There was no season on mule deer at the time this buck was killed. It was definitely a poaching."
The Game and Fish Operation Game Thief program is offering a reward of up to $2,500, while the Mule Deer Foundation and Mohave County Silent Witness are each offering up to $500. The Mohave Sportsman Club is also contributing up to $250 for an arrest.
"It is important to remember this is not the act of lawful hunters," Mocarski said. "Poaching is the act of a criminal."
Mocarski said that Operation Game Thief received 1,070 calls and 65 web submissions leading to 39 arrests last year. The program paid out $12,000 in rewards.
Anyone with information regarding this case, or any wildlife violation, is asked to call the OGT hotline at (800) 352-0700. Web submissions can be reported at www.azgfd.gov/thief. Identities will remain confidential. Anyone calling about this incident should reference case number 12-001968.
More like this story