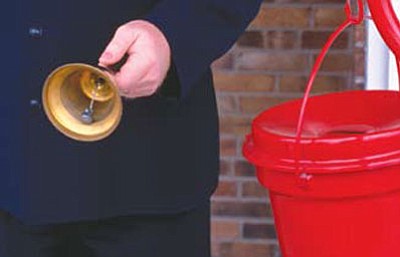 Originally Published: September 27, 2012 6:01 a.m.
The Halloween pumpkins may not be ripe yet, but the Kingman center of The Salvation Army is already working on brightening the Thanksgiving and Christmas holidays for local families.
That task is expected to require more work this season. So far this year, the center has seen a 10 to 20 percent increase each month over last year in the number of families seeking assistance, said Service Center Director Bill Ward.
The program is able to assist a maximum of 250 families, and Ward says he expects spaces on that list will be claimed quickly.
"This is one of our special programs that we do every year," he said. "We don't like families to be without for the holidays.
"Every year we try to add more. There are so many in need."
The Kingman center will start registering the names of deserving families who need a little help with Thanksgiving or Christmas dinner at 10 a.m. Oct. 3. It will continue to take names from 10 a.m. to noon every Monday and Wednesday on a first-come, first-served basis until the maximum is reached or Oct. 31 rolls around.
Each family that is accepted will get a box with a turkey and all the trimmings delivered to them about a week before Thanksgiving or Christmas by volunteers from the Mohave County Sheriff's Office. Last year, the center was able to supply dinner for 200 families.
The center serves an area of 60,000 people. This year, it has helped more than 2,800 households with utility payments, food and clothing, he said.
The center gets most of its donations for the holiday dinners from the community, Ward said. The center is pretty much set with turkeys for this year's holiday dinners but it can always use some help with the side dishes.
"We're always in need of instant potatoes and frozen pies," Ward said.
The center is also collecting toys and clothing for its annual Angel Tags for Children program.
The Christmas gift wishes of the children of each family in the holiday dinner program are put on angel trees at various local businesses. Residents grab a tag from the tree, purchase a gift and bring the new, unwrapped gift to the center with the tag.
The center also collects new clothing and unwrapped toys and accepts monetary donations, all year, Ward said.
Ninety percent of the money that is donated to the center stays in the area, he said.
Residents can drop donations off at the thrift store from 9 a.m. to 4:30 p.m. Monday through Friday at 309 E. Beale St.
For those who are looking to go the extra mile, the center is also looking for volunteer bell ringers for it signature red holiday kettles. Each bell-ringing shift lasts two hours and every person that volunteers means one less person the center has to hire, he said.
Last year, the center spent around $13,000 to hire bell ringers to solicit donations, Ward said. That's about $75 per kettle, per day.
He's hoping enough people volunteer to be bell ringers this year that he can save some of that money for other programs.
"I can feed about 43 families at about $300 per year with that," he said.
He's also hoping to start a prescription and gasoline for work assistance programs.
Residents who don't want to ring a bell can sponsor a kettle for $75.
Residents looking to sponsor a kettle or volunteer to ring the bell can contact Ward at (928) 718-2600 or at Bill.Ward@usw.salvationarmy.org.