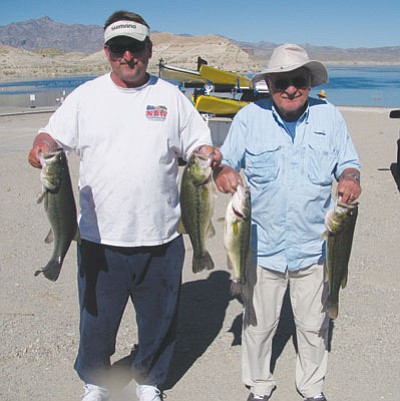 Originally Published: April 3, 2013 6 a.m.
The father/son team of Dave Hilton II and Dave Hilton III had the day of a lifetime while fishing in the Kingman Bass Club's monthly tournament on Lake Mead out of Temple Bar.
They were one of 11 teams from the KBC who were fishing a one-day tournament, and they brought in what is believed to be the heaviest bag of largemouth bass ever weighed on a KBC tournament at Lake Mead.
Their five-fish bag weighed an incredible 18.20 pounds and included the tournament's heaviest bass, a lunker that weighed 4.71 pounds.
Marvin Carter and Mike Baldwin took second place with a catch that weighed 13.29 pounds.
In third place was Roger Miller and Mike Miller, who checked in five bass that weighed 10.98 pounds, narrowly edging out Shane Moline and Tina Kennedy, whose limit weighed 10.93 pounds.
It was a day of pre-fishing that provided the information they needed.
"Dad and I pre-fished the Saturday before the tournament and we found the pattern," the younger Hilton said. "It was dropping Senkos into 20 to 30 feet of water and letting them settle to the bottom. Then we just slowly twitched them.
"Dad also caught a monster smallmouth on a top water lure that day. I bet it weighed almost five pounds."
Hilton said they figured they had a bag that day that weighed more than 17 pounds, so if the pattern stayed the same, he felt they would be ready to go on tournament day.
The plan worked.
"We didn't start out so good," Hilton said. "By 9 a.m., we had just six pounds of fish in the boat."
But for the next two hours the anglers figured out where to fish - and it paid off.
"We were basically done fishing by 11:30," Hilton said. "We actually quit fishing early, as we felt we had the heaviest bag.
"I have never had a day like that on Lake Mead."
Art Fuller, who also fishes with the local club, said that as far as he can remember, no one in the KBC has ever brought in that heavy of a stringer from Lake Mead.
Fuller noted the Hiltons are in first place in the club standings this year and their big fish and stringer are also the heaviest this year for the club.
Click for home delivery with comics, grocery deals, inserts, TV listings, coupons and more
More like this story