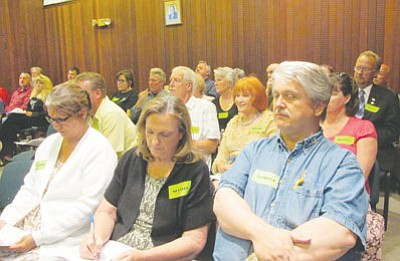 Originally Published: April 4, 2013 6 a.m.
KINGMAN -A proposal to increase the sales tax rate met with enough opposition Tuesday to compel the City Council to postpone taking action until after a budget hearing is held April 19.
Council members heard from Chamber of Commerce leaders and members of the business community who oppose a plan to increase the sales tax rate by either one-half cent or, in the alternative, .65 of a cent beginning July 1. They said they would lose business if the rate were higher than what's in place in Bullhead City and Lake Havasu City.
If ultimately approved, Kingman's sales tax rate would indeed be the highest in the county, but unlike other cities, Kingman residents don't pay city property taxes.
The bottom line is the City Council by next fiscal year won't have the revenue to sustain basic services, such as police and fire protection if new funding sources aren't developed.
"It doesn't take a rocket scientist to see sales taxes collected were $10 million and it cost $12 million to run the fire department and police department," said Mayor John Salem. "We can't send them home."
While business owners, particularly those who sell big ticket items, believe a tax hike in Kingman will negatively impact business, Finance Director Coral Loyd pointed out Bullhead City and Lake Havasu City don't fund their fire services from sales tax revenue like Kingman does.
Bullhead City and Lake Havasu residents fund emergency services through property taxes.
"There's a big difference with Lake Havasu and Bullhead City," she said.
Councilman Richard Anderson said that Kingman, while significantly smaller than Bullhead City and Lake Havasu City in terms of population, generates significantly more sales tax revenue on per capita basis because of the city's status as a transportation hub.
In other words, the city has to provide services to a much larger population than its 28,000 residents, he said. According to the Council, the city's sales tax has not been increased since about 1990.
"We heard people would shop outside of Kingman," said Pam Wilkinson, executive director of the Chamber of Commerce.
Wilkinson took exception to comments Salem made in an article published in Tuesday's Kingman Daily Miner. He said services and entities such as the Powerhouse, home to the Chamber, would have to be closed in order to fund police and fire services.
Salem backed off those comments at the hearing, saying they were just options.
Wilkinson also said the Chamber has not taken a stance on the tax proposal, but Councilwoman Erin Cochran called her bluff when she pointed out Wilkinson and others at the meeting wore bright green badges that said "No Taxes."
"I know this is difficult for everyone," Cochran said. "We're not doing this because we're money mongers. This decision will affect our friends, our families and our businesses."
Harley Pettit sided with the council, saying raising the sales tax would add $6 million to the coffers "with no change to our lifestyles."
Local car dealers, however, said an increase would have a serious impact on sales. Two dealers combined to sell more than 400 vehicles to residents of Lake Havasu City and Bullhead City in 2012, but those sales would dry up once people living outside of the community realize Kingman has the highest sales tax in the region, they said.
Car dealer Martin Swanty suggested the city's approach was "Washington, D.C., thinking," a comment that apparently riled Mayor Salem.
"We don't have a spending problem," he said. "We've got a revenue issue."
Chamber President Tony Campbell said the city needs to look at the budget in terms of needs and wants, suggesting the city could get by on 36 parks instead of 45.
"Umm, we have about 12 parks," retorted Vice Mayor Janet Watson.
The recession can be blamed, as the Legislature no longer shares a host of revenue streams with cities, said Salem.
In recent years, the city's share of Powerball and lottery revenue, he said, has gone down to nothing, as has gas tax revenue.
"The state takes more and more," he said. A state plan to change the construction sales tax now before the Legislature could cost the city another $300,000 if approved, he said.
As for cuts, he said the city has eliminated more than 44 positions from its workforce, leaving about 310 city employees on the payroll - most of whom work for the police or fire departments.
He noted services as diverse as parks and courts recoup very little of their costs, which run into the millions of dollars annually.
"Where do we make these cuts?" he said. "There's no money in the budget for streets."
When asked why the golf course couldn't be sold, Salem said Cerbat Cliffs Gold Course will be paid off and debt free next year. In any event, he said, the Council couldn't sell the course without voter approval because voters elected to fund it in the first place. Also, a plan to sell any city asset valued at more than $500,000 must be voter approved.
"These are the things that make a city a city," said Salem.
Councilwoman Carole Young said a tax increase would also affect residents as well as businesses, saying 43 percent of the city's population lives at or below the poverty line.
She recommended the council postpone discussion on the tax increase until after the April 19 budget meeting.
Watson said the city budget has been cut to the bone.
"We've scrimped and saved ... there's nothing left to cut," she said, "Unless we do something drastic like close the Powerhouse."
When the Council does resume its public hearing on the sales tax rate, perhaps at its May 7 meeting, other ordinances on the board are a proposal to cut the bar and restaurant tax by 1 percent and water fees paid by users by $2 a month. A proposal to cut sewer rates by the same amount could be addressed in the fall.
If the measure passes, the new rate would go into effect July 1, but the clock is ticking as the city must submit a balanced budget by mid-June at the latest.
Councilman Larry Carver, perhaps, best summed up the Council's predicament when he said, "The biggest problems with cities is citizens get used to having stuff. If you add something in the good times, you better figure out how to keep it in the bad times."
More like this story