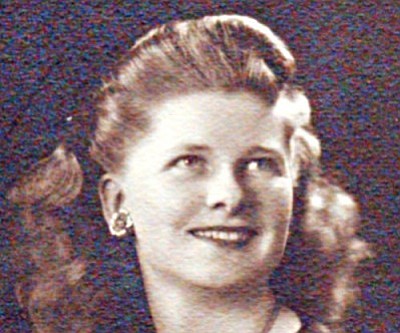 Originally Published: April 5, 2013 6:01 a.m.
Nyla Maxine Moore died at her home in Kingman on Thursday, Feb. 21, 2013, at 7 a.m. She was born in Hiawatha, Kan., on Jan. 26, 1924.
She lived with her parents, James Orval Booth and Marian Margaret Pfister; her brother, Jimmy; and her sister, Alice, in a living space above her Aunt Ida's restaurant. Her mother worked in the restaurant.
Her father was a World War I veteran who continued to work as an Army cook after the war. The Booths and the Pfisters were members of the Hiawatha Presbyterian Church.
The family did not have a vehicle until 1936 when they drove to California, where Grandpa Booth got a job working for the Richfield Oil Corp. The family lived in Hollywood near the Western Picture Studio. Mom attended John Marshall High School in Los Angeles and graduated in 1941.
She was one six senior students to receive the Citizenship Honorary Life Membership award. Her first job was as cashier for The Broadway.
She later worked at the refreshment stand of the Hollywood Bowl. During World War II, Mom worked in the billing department at Acme Fast Freight.
After the war, Kathleen Booth, the wife of Mom's United States Air Force brother, Jimmy, introduced her to United States Navy Seaman Homer Lee Moore at The Pike amusement park in Long Beach, Calif. He had been assigned to the USS Maryland battleship in the Pacific Theatre during World War II.
Homer and Nyla were married on April 20, 1946. They lived with family in Lynwood, Calif., and later bought a house in Norwalk, Calif. Homer went to work as a Teamster truck driver and Mom stayed home with three children, Jerry (born in 1947), Betty (born in 1948) and Linda (born in 1958).
Mom helped us with homework; she was active in the PTA; and she enrolled us in dancing classes, bowling leagues and Sunday School at Norwalk Presbyterian Church. Mom made sure that we completed our education and that we were ready for the outside world.
At home, she would wash clothes and hang them in the backyard to dry in the sun. Then, she would bring everything inside and iron clothes for the whole family, including Dad's boxer shorts and handkerchiefs. Mom also made clothes for us on her Singer sewing machine.
She loved to have fragrant flowers in the yard, including carnations, sweet peas and snapdragons, even though she suffered from hay-fever allergies when the family lived in Southern California. The family always ate dinner together and Mom would usually have a freshly baked pie or cake ready for dessert. We also remember that Mom made foods like noodles and potato chips from scratch.
When the children were established in school, Mom went back to college to learn real estate sales. She worked for great-grandfather Eugene Schall at Orr and Day Realty in Norwalk.
When Mr. Schall died, Mom studied hard to obtain her real estate broker's license so she could become the manager of the office.
In 1973, she was president of the Women's Council and was named the Norwalk-La Mirada Board of Realtors Woman of the Year.
She served in various full-board positions and received the Certificate of Honor for her work as second vice president in 1974.
Mom and Dad retired in the spring of 1974 and moved to Dolan Springs, where Dad built an A-frame ice cream parlor on the road to Lake Mead. They lived in the house trailer behind the store. The business was eventually converted to a café and then rented to other businesses.
Mom and Dad then moved to Oklahoma, where they purchased the former property of Grandpa Moore. They raised goats and chickens, and grew fruit trees, watermelons and various vegetables.
For a while, they owned property in Arizona and Oklahoma. They traveled back and forth between states until they decided to sell the Oklahoma property and stay in Arizona.
In 2000, they sold the Dolan Springs property and bought their current home in Kingman.
Mom had many hobbies and she was good at all of them. In addition to baking, sewing, gardening, bowling and volunteer work at the VFW, Mom created some amazing artwork with thread. She won two blue ribbons for her art at the Arizona State Fair in the only year that she entered.
Mom and Dad became rock hounds in retirement. They prospected for decorative rocks, tumbled them and created pieces of jewelry and some beautiful outdoor displays.
Mom also loved to collect miniature houses with small pieces of furniture that she found in yard sales and hobby shops.
She was constantly reading books on all topics, and she loved card games and puzzles.
While Dad was working, Mom handled all of the details of our lives. She paid the bills, attended school meetings, wrote letters to out-of-state relatives, remembered everyone's birthday and cared for many of our elderly family members.
She was always there to help with any family problem.
Thank you, Mom, for everything you did. You were the nicest, most generous and most loving person we have ever known.
More like this story