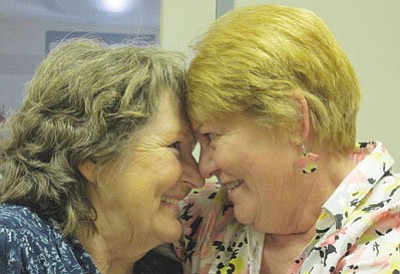 Originally Published: April 7, 2013 6 a.m.
KINGMAN - If tears were gold, sisters Rebecca Rice and Sandra Estes have produced more of the precious metal than Ft. Knox could hold.
A reunion after six decades will do that to your emotions. The tears were borne of joy.
Rebecca, of Kingman, was almost nine years old when Sandra was born in March of 1953, but she never saw her baby sister on that day or any other - until Sandra came to visit her in Kingman last Wednesday.
It didn't take long for them to realize six decades apart was not enough to keep them from feeling connected.
There are things they share in common that could be nothing more than coincidence. They both like NASCAR, for example. Neither woman is a morning person, for another.
But after only two days, they finish each other's sentences. They hug each other with spontaneity. They burst into tears as if their hearts were broken fire hydrants. They naturally assumed their roles in the sibling hierarchy. Rebecca is the big sister and Sandra is the baby sister.
The scene was supposed to play out 60 years ago, but fate and a peculiar selfishness robbed them of growing up together.
"I was supposed to come home with a baby sister or brother," said Rebecca, "but I came home alone."
Rebecca and her mother, Mary, traveled by bus from their home in Michigan to Rhode Island, where Sandra was born.
"Mom cried all the way home," said Rebecca.
Sandra was adopted by a military family and soon wound up in San Diego. She became one of the first women to join the San Diego Fire Department and she lives there to this day.
Rebecca, who works at Accent Care and her husband Earl moved from Rhode Island to Kingman in 2007.
They both lived their lives, but they also had a question that gnawed at them for decades.
For Rebecca, the question was, "Where is Sandy?"
For Sandra, the question was, "Where is my birth family?"
When Mary finally told Rebecca that Sandra had been adopted, a void opened in her life that never closed until a few days ago.
"All my life, I always wondered about her," said Rebecca. "I'd see a girl with blonde hair who looked like my brother and I'd want to ask if her name was Sandy, but I never did."
Sandra, likewise, lived with something significant missing in her life. Her adoptive mother told her she was adopted when she was a teenager, but even before then she knew.
"From what I understood, I was an unwanted baby," said Sandra.
She was half right. Here's where the peculiar selfishness comes into play.
Sandra's father, Alexander Schmidt, denied the baby was his and demanded Mary give it up.
"I can' imagine what Mom went through," said Rebecca. "Even his own brothers and sisters had nothing to do with him after that."
Rebecca had her own ordeal to survive.
"They told me Sandra had died," said Rebecca.
History would repeat itself a few years later when Mary again became pregnant and Schmidt insisted she give up this child, as well.
"Mom put her foot down that time," said Rebecca. "He was drinking a lot more by then and she was scared and we fled to Rhode Island."
That state on July 12 unsealed every adoption record dating back to 1944. Adoptees looking for their birth family could pay $20 and get the records, no questions asked.
Sandra paid the fee, got the last name she needed to start her search, joined Ancestry.com and within a month had located her sister.
"I found Mom's birth certificate and then I found her obituary," said Sandra. Mary died in Kingman in 2010. Rebecca and her husband, Earl, were listed among Mary's survivors.
"I Googled 'Earl Rice' and got the phone number," said Sandra, but after decades of wondering about her family, Sandra got cold feet.
"I wasn't sure how they would react," she said.
"One of my daughters was worried she might be an axe murderer," said Rebecca. "She's a little guarded you could say."
Sandra thought writing a letter might be the better route to take, but friends urged her to call.
"My name is Sandra Jo and I was born in Rhode Island," she said when Rebecca answered. "I think we have a relative in common."
"Yes," replied Rebecca. "Our mother."
The date was March 21 - Mary's birthday.
"She was so receptive to me finding her," said Sandra. "At first I was relieved and then I was exhilarated."
Even Earl chimed in when he heard, exclaiming, "Are you kidding me?"
The women said they "got a sense of connection right away."
"This has been such a gift," said Rebecca. "Such a miracle."
Sandra didn't take long to behave like a little sister.
They made tentative plans to visit sometime in the near future, but Sandra wanted immediate gratification.
"I booked flights," she said as soon as Rebecca answered the phone. "Can I come?"
She flew to Las Vegas, rented a car and drove to Kingman.
The directions to Rebecca and Earl's Kingman home can be difficult to decipher so the women met at Locomotive Park.
"The tears just started pouring out," said Rebecca. "I actually started crying on the way to the park. A man in a pickup asked if I was OK."
"The urge to find you really grew after Lillian (Sandra's adoptive mother) died in 1999," said Sandra, using her third tissue to dab yet another tear from her eye.
Sandra returned to San Diego on Saturday. No doubt she could have sailed home on the river of tears that have been shed by her and her long-lost sister over the past few days.
Call it the River of Joy.
Click for home delivery with comics, grocery deals, inserts, TV listings, coupons and more
More like this story