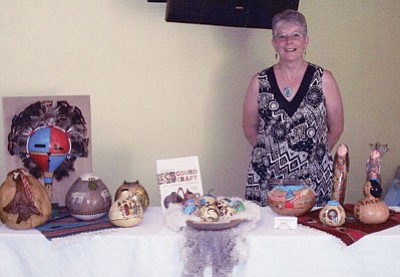 Originally Published: April 7, 2013 6:01 a.m.
Patsy Chapin and Denise Yadon are Artists for April 2013 at the Mohave Museum of History and Arts, 400 W. Beale St., Kingman.
Patsy took up art about 17 years ago. She will be showing a variety of her work, including watercolors, acrylics and scratchboard art depicting animals, birds, flowers and more.
Denise is a self-taught artist who has fallen in love with Southwest Native American style and design. The gourd has provided the primary base for most of her artwork.
Patsy will be at the museum from 10 to 11:30 a.m. on Tuesdays during April.
The museum hours are 9 a.m.-5 p.m. Monday through Friday and 1 to 5 p.m. Saturday, closed Sunday. For more information, call (928) 692-6358.