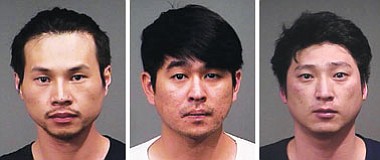 Originally Published: April 15, 2013 6 a.m.
KINGMAN - A Friday morning traffic stop by Mohave County Sheriff's deputies on Interstate 40 led to the discovery of a pound of methamphetamine and serious drug charges being filed against three men.
According to the MCSO, Sung Il Park, of Los Angeles, Seo Joon Lee, 37, of Marina Del Rey, Calif., and Hyunsoo Choi, 30 of Bellevue, Wash., were arrested for possession of dangerous drugs for transport and/or sale and possession of marijuana for transport and/or sale, felonies.
The MCSO deputies made the traffic stop at milepost 44 after determining the black Mercedes was traveling 85 miles per hour in a posted 75 mph zone. During the stop, deputies smelled an odor of marijuana emitting from the vehicle. A search allegedly revealed numerous plastic pill containers holding marijuana, five small plastic bags containing a white crystal substance and a glass pipe with residue.
The white crystal substance field-tested positive for methamphetamine.
Park, Lee and Choi were taken into custody without incident.
The vehicle was transported to the Mohave County Maintenance Yard and searched.
According to the MCSO, deputies located a plastic bag containing a pound of methamphetamine inside a suitcase in the trunk of the vehicle.
The street value of the methamphetamine is estimated at $46,000.