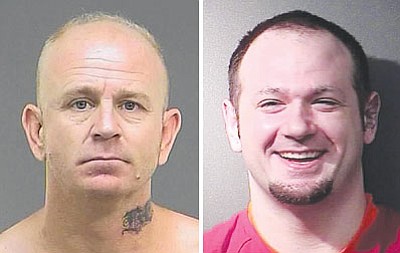 Originally Published: April 18, 2013 6 a.m.
KINGMAN - One of two men charged with first-degree murder in the July 2011 beating and shooting death of Alberto Orozco in Kingman pleaded guilty to less serious charges last week.
John Langan's co-defendant probably won't get the same deal.
Langan pleaded guilty April 10 to hindering prosecution, the least serious offense he faced. The deal allows Langan, 33, to avoid first-degree murder charges in the homicide.
Langan could face more than eight years in prison when he's sentenced May 10.
No plea deal is in the works for Russell Shields, 43, Langan's co-defendant.
Shields allegedly shot Orozco, who was 28 when he was killed, in the garage of Shields' home. Langan was reportedly present and helped Shields clean up the crime scene.
Police believe the two men placed Orozco's body in the passenger seat of his own car and Langan drove it to the 3200 block of Lomalai Street and parked it there.
The killing was allegedly a robbery gone badly and may have involved a drug debt.
Detectives with the Kingman Police Department and Department of Public Safety spent seven months building a case against the men before it was presented to the Mohave County Grand Jury.
At one point, the KPD offered a $1,000 reward for information.
The grand jury indictment charged the men with first-degree murder and misconduct involving a weapon. Additional charges of abandonment of a body, tampering with evidence and hindering prosecution were also filed.
Shields faces far more than murder charges.
He goes on trial May 7 on a host of drug and misconduct with a weapon charges. Judge Derek Carlisle set the date Wednesday during a status hearing.
Shields allegedly shot and wounded another man in Kingman about a month after Orozco was murdered. He was charged in that case with aggravated assault with a deadly weapon and prohibited possession of a firearm. The 31-year-old victim was shot in the torso.
Police located Shields at a home in the 3200 block of Apache Street, where the victim told police the shooting occurred.
Shields denied involvement in the shooting, but evidence found in the home and witness statements led to his arrest. That case is also pending.
The shooting reportedly was over a debt, but who owed the debt is unclear.
Shields has prior felony convictions and therefore not allowed to own or use a gun.
On Wednesday, defense attorney Christian Ackerley told Carlisle he wasn't prepared to go to trial on the murder case because the state hasn't provided him with all of the evidence in the case.
"This was a substantial request for discovery," said Ackerley. "It's material and crucial to the case."
Ackerley said he intended to file other court documents in the case, which could delay the trial.
Prosecutor Doug Camacho said he didn't receive the letter until Monday and was unable to go through the file in time for Wednesday's hearing.
Carlisle set a hearing for May 17, at which time Shields' trial date may be set.
Click for home delivery with comics, grocery deals, inserts, TV listings, coupons and more