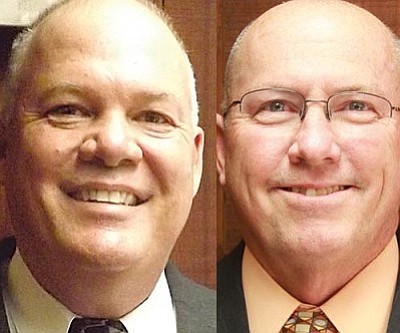 Originally Published: April 21, 2013 6 a.m.
KINGMAN - The City Council on Friday voted unanimously to bump the sales tax by half a cent, cut the bar and restaurant tax by 1 percent and lower the base water rate by $2 a month.
The changes take effect July 1. A state-mandated one-cent sales tax expires May 31, meaning shoppers will actually pay a half-cent less than they do today once the change is in effect.
The sales tax rate in Kingman after July 1 will be 8.35 percent. It is 8.85 percent today
The sales tax rate in Bullhead City and Lake Havasu will drop to 7.85 percent following the state sales tax change, but Bullhead City residents pay into a fire district and Lake Havasu City residents pay a property tax that helps fund police and fire protection.
The increase and decreases are projected to net the city about $1 million a year, funding that would be used to shore up a general fund account that has shriveled dramatically since the Great Recession began in earnest in 2007.
Sales taxes, formally known as a transaction privilege tax, are the sole local source to fund city operations in Kingman, including police and fire protection. Currently, about $10 million is collected annually in sales tax, but police and fire protection alone cost taxpayers about $12 million a year.
Finance Director Coral Loyd said the shortfall would be made up by revenue the state shares with cities.
The sales tax hike will sunset on June 30, 2016.
Until then, voters will be asked to do one of two things: Approve a 0.28 percent property tax to fund public safety or form a fire district.
According to city staff, the owner of a $100,000 home would pay about $280 more a year in property taxes if voters ultimately approve the measure. The owner of a business valued at about $1 million would pay roughly $3,500.
Members of the Chamber of Commerce present at the meeting did not object to the sales tax hike or the proposed push to levy a property tax, which would require a successful petition drive in order to be placed on the 2014 election ballot.
Councilman Larry Carver proposed the sunset provision. If voters approve a property tax, the city would not begin to collect those funds until October 2016.
If voters give it the thumbs down, or it never makes it on the ballot in the first place, the City Council would have to revisit the issue.
The goal is to find a permanent revenue source to fund public safety. Council members agree the actions taken Friday provide, at best, a temporary fix.
As of today, convincing Kingman residents that a property tax is the best way to pay for public safety is paramount.
A fire district might be problematic since a new political subdivision would have to be created.
Mayor John Salem said the Legislature is considering a bill that would allow city councils to act as a fire district board. If the bill doesn't pass and the City Council formed a fire district, a separate board would have to be elected.
Salem's concern is that third-party firms are often hired to manage a fire district's day-to-day operations.
"I don't want our assets transferred to Seattle or Denver for third-party management," said Salem. "We have lots to discuss."
Getting a property tax question placed on the ballot in the fall of 2014 could also be problematic.
The last time Kingman residents paid property taxes to the city was in 1980.
"Who's eligible to sign the petition?" said Salem. "We have a lot of work to do."
In other words, will renters be allowed to sign the petition or just property owners?
Salem pointed out that if the question makes the ballot, every registered voter could vote on the issue. A simple majority, 50 percent plus one, said Salem, and it passes.
City Attorney Carl Cooper said it is legal to dedicate the revenue collected from property to police and fire protection, but he cautioned council members that the process could be lengthy and "probably fairly expensive."