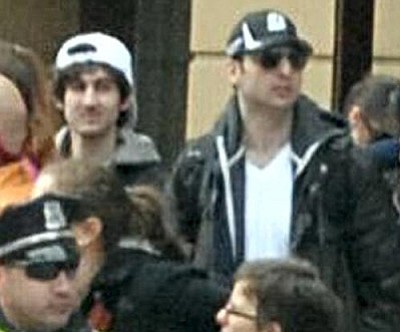 Originally Published: April 21, 2013 6:01 a.m.
We've found out quite a bit about Tamerlan and Dzhokhar Tsarnaev, the ethnic Chechen brothers suspected of bombing the Boston Marathon.
Tamerlan, the one killed Friday morning, was once a talented boxer who studied engineering for a time. It appears he was the more alienated of the two; he reportedly had a history of domestic violence, was aggressive and controlling and spoke of having no American friends and not understanding Americans. His own family apparently worried about his influence over his younger brother.
Dzhokar's case is more puzzling, at least considering what's known so far. He was by many accounts a well-liked athlete in high school who had gone on to college. One of his teachers called him a "sweetheart."
Others remembered him being as American as apple pie - hardly surprising, since he'd grown up in this country for about 10 years and even became a citizen.
Those who knew the younger brother either went into denial that he could be involved or became very angry. His uncle, Ruslan Tsarni, urged Dzhokhar to turn himself in and said this: "He put a shame on the Tsarni family. He put a shame on the entire Chechen ethnicity."
That comment is worth noting in light of an effort Friday, while Boston was still locked down and a manhunt under way, to link this horrible event to the immigration debate.
The Tsarnaev brothers are immigrants, you see. Legal ones. They're also Muslim, or at least grew up in a Muslim family.
Some will link the words "Muslim immigrant" and "sleeper cell," and combined with shouts of "no amnesty!" (which no one is proposing anyway) will further muddy the debate and stymie reforms that need to take place.
If you find yourself taking that mental route, pause, inhale deeply and turn your brain around. Remember: We're a country of immigrants, including Muslims, who have been immigrating to America since at least the 1800s.
Muslim African slaves, brought here by force, arrived even earlier.
There are even Muslims right here in Kingman! It's true - working, praying, raising kids, paying taxes and following their respective American dreams. Two idiot bombers do not speak for them.
I'm glad Dzhokhar was taken alive, and I hope he lives (long enough to talk to investigators, at least). I want to hear his excuse. I want to know what was going on in his and his brother's heads. He can't justify what they did, but maybe we'll learn something about how people get to the place he apparently reached - a place where you can convince yourself to bomb strangers who were either achieving a milestone or cheering on someone who was.
Then the court system can have him, followed by prison. Massachusetts doesn't have the death penalty. There's a federal death penalty option, but life without parole is fine with me. Prove him guilty in a court of law and let him rot - besides, it's probably cheaper to do that instead of paying for decades of death penalty appeals.
That process should take place in a civilian court, not a military tribunal. Our courts handled the Unabomber and Timothy McVeigh. They can handle this guy as well, even if it turns out the brothers have connections to violent groups elsewhere.
Classifying them as terrorists makes them sound more important than they are. They weren't fighting oppression. They weren't striking an autocratic regime or trying to topple a corrupt military state. They snuck up on normal, everyday strangers and blew them up.
That makes them nothing more than murderers - and cowards.