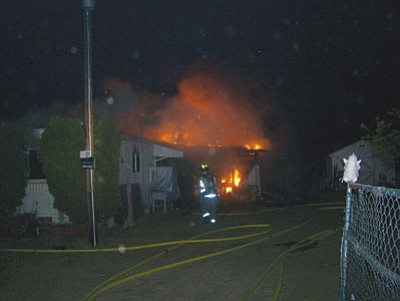 Originally Published: April 24, 2013 6 a.m.
KINGMAN - Three engines with the Northern Arizona Consolidated Fire District responded to a suspicious house fire in the 3500 block of Bluebird Lane at about 11 p.m. Sunday.
The family living there was displaced, but no injuries were reported.
Neighbors told firefighters that people might be in the home, but that report was false.
Damage is estimated at about $7,500, according to the fire district.
Mohave County Sheriff's deputies, American Medical Response and UniSource Electric assisted at the scene.
The Red Cross provided the adult and child who were displaced with food, clothing and shelter.
The investigation remains open.
Anyone with information on the fire is encouraged to call the Mohave County Sheriff's Office at (928) 753-0753 or Battalion Chief Jason Scott at (928) 757-3151.