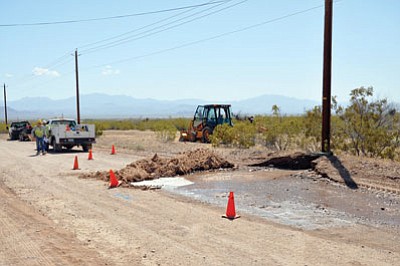 Originally Published: April 26, 2013 12:08 p.m.
GOLDEN VALLEY - Water service to about 50 residential customers and the standpipe customers in the Golden Valley Improvement District (GVID) was disrupted Friday for over four hours due to a break in the water line near Cove and Bolsa Roads.
The main 10-inch supply line (originally reported to be a 6-inch line) carries water to the 750,000-gallon storage tank that provides water to the customers in the southwest portion of Golden Valley. It was shut down by GVID officials when a backhoe operator for John Gilje Inc., a contractor for Frontier Communications, accidently cut through the line when digging a trench for telephone service.
"We were notified of the break in the line about 9 a.m. and were able to begin repairs by 11 a.m.," said Public Works Director Steven P. Latoski. "It took about two and a half hours to do the necessary repairs, which included digging up the line where it was broken and placing a repair band around the affected area. The service to the affected customers and the standpipe has now been restored."
According to reports, the break caused by the backhoe was due to the water line's location being incorrectly marked.
More like this story