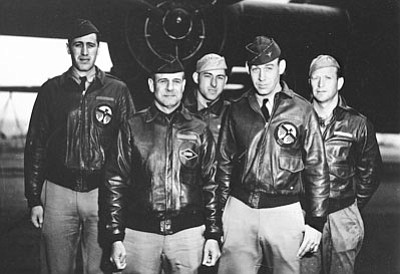 Originally Published: April 28, 2013 5:43 p.m.
They were known as the Greatest Generation. Here is but one of their amazing stories. . .
On a quiet Sunday morning, December 7, 1941, when most ships were in port and many soldiers didn't have to report to duty, our American military forces suffered a devastating Japanese attack on Pearl Harbor followed by four more months of defeats as our bases in the Pacific were overcome by the Japanese.
American morale was low. President Roosevelt was searching for a way to make a retaliatory air attack to remedy that while showing the Japanese we were capable of doing so.
On April 18, 1942, that remarkable attack did take place under the leadership of Lt. Col. James H. "Jimmy" Doolittle with 80 B 25 combat crew volunteers from the 17th Bomb Group and a less than 50/50 chance of coming back alive. Later the odds would get worse but not a single man opted out. It would be a one way flight at best.
Last week, around the April 18th date, three of the last four surviving members of this distinguished group that are Doolittle's Raiders met for their 71st and final reunion in Fort Walton Beach, FL near Eglen Air Force Base where they trained for this top secret mission. Their ages are 92 to 97. One was unable to attend and a fifth died in February of this year. Here is their remarkable story.
There weren't a lot of good reasons their mission should have worked due to distance, bomb load etc. So they simply did what had never been done before and made it work anyway.
Settling on 16 Army B-25 Mitchell medium bombers with a shorter wing span then others they considered, they retrofitted the planes to meet their needs, added extra fuel tanks for the long journey and then did the unthinkable. They launched off the deck of the Navy carrier Hornet with less than 500' to do so, not the usual 1200' feet needed, the only time in our history a US Army Air Force bomber launched off a carrier on a combat mission. Only Jimmy Doolittle and his men thought it could be done.
Each carried 4 - 500 lb bombs and 1141 US gallons of gas rather than their usual 646 gallons with the mission to bomb Tokyo and three or four other cities. Unable to land back on a carrier and with little fuel left, their plan was to try to make it to China where a Japanese presence already existed. While Russia was closer, it had signed a neutrality pact with the Japanese so landing there was forbidden.
The plan was to fly off the Hornet 450 miles from Japan but the two Navy carriers and 14 supporting ships were spotted by an enemy boat who radioed the Japanese. The Navy fighters had been put below deck to allow room for the 16 B-25's. There were but two choices, dump the B-25's in the ocean and bring up the Navy fighters for protection or launch 200 miles further out and ten hours early.
They launched. Doolittle leading them, warned them to do exactly as he did due to the pitching deck. A gale had come up and they had to fly directly into it. All 16 made it safely. Six hours later they were over Japan, made their drops and then 15 planes headed for China. One, out of gas, flew to Vladivostok, Russia where the crew of five was interned.
Due to leaving early, they had to bail out in the dark, some ditching their planes over water. All 16 planes were lost. Two men drowned swimming to shore, one was killed on the bailout. The Japanese captured eight, three of which they put before a firing squad six months later while one died of malnutrition. The other four were tortured and starved in solitary confinement until 1945 when they were rescued.
One of the four rescued later became a Christian Missionary and went back to Japan where he lived for the next 30 years, leading the Japanese to Jesus Christ. The five imprisoned in Russia escaped to Iran 14 months later. Years later, we learn the Russians were complicit in their escape but could not divulge it at the time due to the pact they had with Japan. The rest bailing out in China were helped and hidden by the Chinese who paid dearly later when the Japanese killed thousands of them for doing so.
Of the 69 remaining, 28 continued flying missions in the China, Burma, India theater with five killed in action. Nineteen returned to the US, only to go back and fly combat missions in North Africa. Four were killed in action, four became POW's. Nine served in the European theater with one being killed. In all, 12 died in air crashes within 15 months of the Doolittle Raid.
Because all aircraft were lost, Jimmy Doolittle thought the mission was a failure and he would be court-martialed upon return. Instead, the purpose of the mission had succeeded. While military and industrial sites had been hit, the damage was not devastating but fear was put in the Japanese concerning trusting their leadership. American morale went up and the Japanese, spooked, changed their conquest strategy and instead attacked Midway island two months later where we soundly defeated them, sinking four of their aircraft carriers and changing the course of the battle in the eastern Pacific.
Each Raider received the Distinguished Flying Cross, two received Silver Stars for valor, the wounded or injured, of which there were many, received Purple hearts, all received a decoration from the Chinese government. Doolittle himself received the Medal of Honor from President Roosevelt and was promoted to Brigadier General. In the next three years, Doolittle headed the 8th Air Force in England, the 12th Air Force in N Africa, 15th Air Force in the Mediterranean.
I am of the opinion that God had Jimmy Doolittle in training for many years prior to his heading the Raiders.
Doolittle, born in 1896, had enlisted in the Army Signal Corps during WWI, was an instructor, then staying in earned a BA, studied aeronautical engineering at MIT where he earned a Masters and Doctors Degree in Science. He left the Army only to return when WWII started. Over the years he made pioneering flights that earned him most of the major air trophies and international fame including the Schneider Cup Race, the world series of seaplane racing with the fastest speed a seaplane had ever flown only to follow it up with the world speed record for land planes.
He was also the aviator who solved the problem of flying "blind" in fog by using instruments he himself had helped develop. He made the initial test flight, flying 15 miles in deep fog off Long Island completely blind, using only instruments. His landing was perfect.
In 1930, Shell Petroleum approached Doolittle about joining them in the new field of aviation gasoline. Taking a two months leave from the Army, he teamed up with Shell and became the head of development of all Shell aviation products. This would prove invaluable later in WWII.
Curtiss-Wright asked him to demonstrate a new Curtiss fighter in Europe using Shell products. He did so and for months he and three other flyers roared across Europe putting on air shows with aerial acrobatics. Making a point about his plane, a little Curtiss Hawk, he flew one under an old bridge on the Danube with only a foot or two to spare. While flying in Europe however, he also realized European progress in the aviation field was ahead of us, a disturbing fact to him.
Doolittle worked tirelessly with Shell pushing to improve aviation fuel so we wouldn't be left behind should an air war occur. Eventually he won the battle for 100 octane gasoline. The result was American and British fighters speeds were increased by 50 mph and the bomb load of each bomber by a ton. Hitler was rising in Europe and Doolittle was worried but with 100 octane, real air power could be developed.
Doolittle's life was fascinating. Small wonder men were willing to fly into hell behind him. Ernst Udet, the German ace pilot who built the Luftwaffe once remarked "You Americans really have two air forces, your Army Air Force and Jimmy Doolittle".
Jimmy Doolittle died at age 97 in 1993 and rests in peace in Arlington next to his high school sweetheart, his beloved Jo.
Meanwhile, last week another 97 year old Raider was very busy at their 71st and last reunion in Florida.
Larry Kelley, a WWII buff who owns four B-25's brought them to the reunion. All three remaining raiders went up in the planes but retired Lt Col Richard Cole, 97 years old, who was Doolittle's co-pilot flew the Panchito himself, keeping it steady and landing it beautifully.
The citizens of Tucson, AZ, after WWII, presented the Doolittle Raiders with 80 Sterling goblets, each engraved with their names both right side up and upside down. Each year they have a short ceremony honoring those lost in the Raid and others who have since passed away. Each year there are more. For those deceased, their goblet is turned upside down.
The plan was, when they were down to the last two Raiders, they were going to open a bottle of 1896 (Doolittle's birth year) Hennessy Cognac for a last toast but like the changing of their raid plan, they have decided to open it later this year with the remaining four due to their advanced age.
God bless these, the men from The Greatest Generation. If you have feelings, as I often do, that our country is headed in the wrong direction, remember, we come from men and women such as these. Read their stories. Take heart. Look at the odds many faced during WWI and WWII. Look at pictures of the rows of white crosses in the American cemeteries in France, filled with men who thought freedom was important enough to give their all for. Then realize, we are still here with a modicum of liberty to still be saved.
And then, fight on in whatsoever manner God shows you to fight.