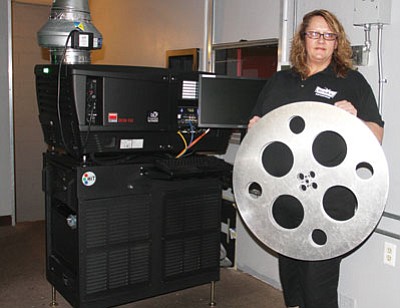 Originally Published: April 28, 2013 6 a.m.
KINGMAN - Kingman Cinemas has completed a $320,000 upgrade that its owner says will improve movie clarity and allow more flexibility in what the theater can show.
Tom Daugherty, co-owner with John Brenden, said the theater in March removed its old reel system and replaced it with four digital cinema projectors and servers. Each cost $80,000 and uses tiny hard drives instead of big metal film reels that, when loaded with film, can weigh 100 pounds.
"The issue is that by the end of the year, studios are going to stop making film," said Daugherty. "Film has been around forever, but the studios have decided to go digital because it's as good as or better than film. Digital is much easier for us, too, and movies will look great on the first day they're shown and three weeks later."
Daugherty said the new equipment allows the theater to be more flexible and play combinations of older and newer movies on multiple screens and for more times a day. With film reels, it takes an hour and a half to load a movie, trailer and pre-show. The new equipment decreases the loading time to 20 minutes. Also, taking a movie apart after showing it has shrunk from 45 minutes to zero.
"It's much easier," said general manager Annette Post. "You load the movie, download it to the server with the trailers and build the movie with cues that turn the lights down for the showing. You tell the server what to do. It's a big savings of time, and the movie is a much better quality. We're hearing lots of good comments from our customers."
Daugherty said movie studios are helping to defray the cost of installing the projectors and servers through a fee paid to theaters each time a movie is shown, but it isn't enough to cover the total cost. Daugherty said he is looking to do that through increased movie showings and adding sessions specifically for playing Christian-based movies, which have a big following in Kingman.
Also, he is considering the addition of midnight sessions during the summer for showing classic movies, such as "Scarface." Daugherty said his younger audience might enjoy staying up late to watch a series of movies at the theater. Also, he is interested in using the theater for business meetings where computers can be hooked into the new equipment for PowerPoint presentations.
"With the way times are now, you have to look at what you can do to increase revenue streams," said Daugherty. "We've added this equipment and we want to use it for the benefit of the theater and the community."
Click for home delivery with comics, grocery deals, inserts, TV listings, coupons and more